Camp Verde 'still waiting' for results of Marshal investigation
By
Bill Helm
|
BillHelm42
Originally Published: February 27, 2018 1:56 p.m.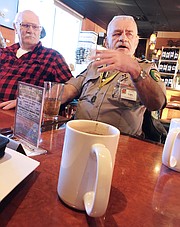 CAMP VERDE – Three weeks ago, Camp Verde Town Manager Russ Martin met with representatives from Arizona Department of Public Safety (DPS), who agreed three months ago to conduct an investigation on the Town's police chief.
On Oct. 25, the Town of Camp Verde placed Marshal Nancy Gardner on paid administrative leave.
As with all human resource matters, what happens internally stays internally.
Martin said Monday at the Marshal's Office's monthly Coffee with a Cop that he's now waiting for DPS to do the "writing and the approvals."
"Here we are, three weeks later," Martin said Monday. "And I'm still waiting for the writing and the approvals."
Martin described the process of waiting for complete information as a "hitch and giddy-up situation."
One person asked Martin on Monday how he would disseminate the information once he receives it.
"After talking with Nancy, I'll talk with staff, council, then the press," he responded.
Gardner's in-house replacement is "looking forward to her coming back."
Commander Brian Armstrong, who arrived from Arizona Department of Transportation on June 26, says he's learned a lot – and learned a lot about himself – since being appointed to handle Gardner's responsibilities during the investigation.
"A lot of personal growth," Commander Armstrong said. "Being a chief had never been in my sights. Going from commander to [temporary] chief is a totally different perspective."
"I never really looked at that side of things," he said. "I'm just looking forward to Nancy coming back."
Robbery recap
Shortly after taking $2,000 from the Camp Verde Chase Bank, Prescott resident Shawn Manning, 53, was apprehended by the Camp Verde Marshal's deputies.
The robbery took place at about 10 a.m. Thursday, Feb. 22. As Manning left the bank, Deputy Dave Freeman "happened to be driving down the road and was able to see Manning coming out of the bank," Commander Armstrong said.
Armstrong said the capture "was perfect, right out of a book."
31 Chihuahuas
Animal Control volunteer Pat George talked Monday about the recent acquisition – then distribution – of several canines.
"A woman passed away, she had 31 Chihuahuas," George said. "It was sad, such a mess. They stank."
George said that it took between two and three hours to round up the dogs, then another two to three hours to find them, homes.
"We found a home for all of them," she said.
March-a-Mile for meals
Penelope Cook of the Verde View Senior Apartments reminded everyone of the 9 a.m. start to this year's March-a-Mile for Meals, scheduled for Saturday, March 24.
Both registration and the walk meet at the Main Street gazebo, between Parks & Recreation and the Camp Verde Historical Society. TO register, show up at 8 a.m.
The two-mile walk will begin and end at the gazebo and participants will go down Main Street toward the Union gas station on SR 260 and back to the starting/finish line.
"We need walkers and fundraisers to pledge money," Cook said.
Any participant who collects pledges of at least $50 will receive a complimentary pancake and sausage breakfast provided by Camp Verde Denny's Restaurants, located at 1630 W. SR 260 behind the old Taco Bell building.
Registration and Pledge sheets are available at the Verde Valley Senior Center or at the Senior Center's website, www.verdevalleyseniorcenter.org. Forms are due by Wednesday, March 21 and can be submitted in person to the Senior Center or by mail: P.O. Box 681 Cottonwood, AZ 86326.
For more information contact Marie DeClue at (928) 554-1059 or declue10@aol.com, or Penelope Cook at (928) 606-5371 or Penelope.cook@rhf.org.
-- Follow Bill Helm on Twitter @BillHelm42
More like this story
SUBMIT FEEDBACK
Click Below to: