Editorial: Consensus accuracy needed on Verde Valley history
Originally Published: February 27, 2018 12:02 p.m.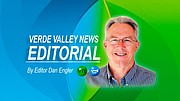 This past weekend, the Verde Valley was provided an important local history lesson courtesy of the Yavapai-Apache Nation's annual Exodus commemoration.
The weekend before, an African American version of that same history was offered during the annual Buffalo Soldiers living history presentations at Fort Verde State Historic Park.
Come October, we will be on the receiving end of yet another version of that same history during Camp Verde's annual Fort Verde Days celebration. This version focuses on the role of the U.S. Cavalry to help settle the western territories that eventually became part of the United States.
We obviously love our history here in the Verde Valley.
But as it applies to Fort Verde, native Yavapai people and the Southwest's Indian-American "wars" of the late 1800s, we seem to be all over the map in the manner we present that history. One version paints a picture of a hostile takeover, attempts at genocide and enslavement. The other portrays a needed military action against "renegade Indians" to allow for a peaceful settlement of the area we know today as the Verde Valley.
Much of the historical inconsistencies fall into the category of omission. Accounts that place one group's version of this local history in a questionable light are glossed over or ignored altogether. Some seem to be a blatant distortions of the versions presented by others.
Obviously, it would be interesting to have these three groups get together to try and reach consensus on an accurate version of our local history.
That would give the rest of us the kind of information we need to properly honor the history deserving of such … and avoid that which does not.
More like this story
SUBMIT FEEDBACK
Click Below to: