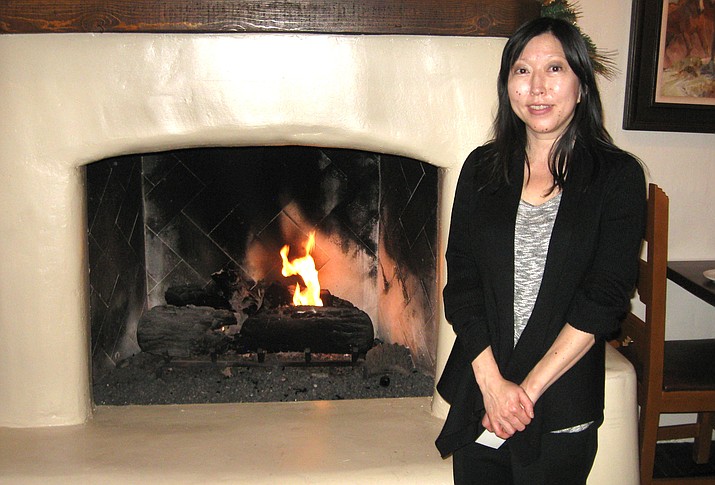 What's in a name? Quality Kitchen and Bar --- in our opinion, that name leaves something to be desired.

For certain, with a name like that, you'd expect quality and from our experience, that's what you get.
The Barking Frog is no more. 2620 W. SR 89A is now The Quality Kitchen and Bar. The inside dining areas looks the same, but a larger covered patio street side has been constructed.
Most important, Chef Michael Clancy has developed a new, exciting and price friendly menu, featuring locally and seasonally sourced foods. Open only Thursday through Sunday for happy hour and dinner, Claudette Laliberte, Barb Mallek, Stacy Moore and Suzie dined there prior to attending The Nutcracker Ballet.

The easy to follow menu on one side allows one to choose from interesting cocktails, reminiscent of early movies and 60's television that began with wife preparing the husbands martini (Bewitched?).
It also features some nicely priced wines and beers, many local. The reverse side of the menu has "Beginnings" or appetizers, salads and soup; "A La Carte from the Farms" section with delicious sounding vegetable creations; "Proteins", with everything from Scottish Salmon and Short Rib Burger to Pan Roasted Gnocchi and Crispy Halibut Sandwich (eat your heart out, Jeff!); and "Desserts." Just enough offerings to allow for preferences. When our server announced the market fresh fish of the day as Grouper, Barb and Suzie jumped on it. Our pre-fixe plate with creamed flat leaf spinach and mashed Yukon Gold potatoes was superb.
Stacy and Claudette treated the table to Spicy Sushi Grade Tuna Tartare, then shared the Crispy Roasted Chicken and Mashed Yukon Gold Potatoes and Gravy. No room or time for dessert, but we vowed to return sometime to try the signature sweet, "Coffee and Doughnuts".
More information can be gleaned from website: qualitykitchenandbar.com or by calling 928.204.2000. We might mention that its off hours recording allows making reservations easy and response is timely.
As Lisa Dahl, executive chef of The Dahl Group, attests to in her interview with USA Today Eats freelance journalist Melissa Kravit , dining is looking up in Sedona! We're seeing a culinary evolution. Something for every palate and wallet. "Dine In/ Dine Out" never seems to run out of new, old and re-created dining establishments or interesting foodie topics. We appreciate your input. Eat wisely and savor goodness.
More like this story