Fort Verde Park Manager says maintaining annual events 'is a success'
By
Bill Helm
|
BillHelm42
Originally Published: January 2, 2018 1:48 p.m.
CAMP VERDE – At Fort Verde State Historic Park, maintaining several events each year "is a success," says Park Manager Sheila Stubler.
With a small staff that recently shrunk by one with the retirement of one of its park rangers, Fort Verde is run like many Camp Verde institutions – with the help of many volunteers.
Stubler, with a career in parks and recreation in the Phoenix area before moving to the Fort nearly 15 years ago, says there is "always a need for volunteers to complete interpretation, maintenance, help with special events, running the front desk, as well as various other miscellaneous projects."
Other than May, when staff and volunteers tended to regular business and prepared for the next month's activities, Fort Verde boasts the following successes in 2017:
January
Participated in the Town of Camp Verde's first volunteer recruitment fair, held at the Camp Verde Community Library.
February
Buffalo Soldiers did not come to Camp Verde with the first wave of the area's post-Civil War armed forces. But African American soldiers from the 10th Cavalry's Troop I and Troop M settled in the area in spring of 1885.
Each February, Fort Verde hosts its annual Buffalo Soldier living history event in conjunction with African American History Month.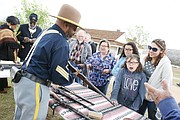 March
Participated in Archaeology Awareness month as it hosted presentations all month long.
April
Each year in April, Fort Verde interprets the History of the Soldier, with historical reenactments, military drills, a fashion show, and a period church service, as well as flag-raising and flag-lowering ceremonies, military encampments, weapons demonstrations and Dutch oven cooking demonstrations.
June
Partners with American Legion Post #93 Camp Verde to host the Flag Day ceremony.
July
In conjunction with the Town of Camp Verde's annual Cornfest, Fort Verde hosted a Vintage Base Ball game, one of many 1860s-era baseball games played on the historic parade grounds.
Several years ago, Fort Verde began showcasing historical reenactments of the National Pastime, as the Fort Verde Excelsiors would host various teams from the Arizona Territories Vintage Base Ball League – ATVBBL.
In 2016, the Excelsiors joined the ATVBBL. The league's nine teams play from November through April.
The Excelsiors play roughly 12 league games each season, as well as at the Buffalo Soldiers, History of the Soldier, Cornfest and Fort Verde Days events.
August The Old Guys won the Volunteer of the Year Award from the Arizona Parks and Recreation Association for their volunteer efforts serving Fort Verde and the Town of Camp Verde.
September 
Arizona State Parks and Trails received the Gold Medal Award from National Parks and Recreation Association for the best managed state park system in the nation.
October
Fort Verde received proclamation from the Town of Camp Verde declaring October as "Fort Verde State Historic Park Month"
Park Manager Sheila Stubler received the Public Service Award from Arizona State Parks Executive Director Sue Black in recognition of service and dedication to Arizona State Parks and Trails.
Stubler was also Grand Marshal for the Fort Verde Days parade, with her father, John Stubler, alongside her.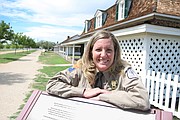 November
Fort Verde hosted its annual flag retirement ceremony, with help from American Legion Post 135 Cornville and local Boy Scouts.
December
Fort Verde hosted an ornament workshop, candlelight tours and was decorated in Victorian holiday fashion for the entire month of December.
SUBMIT FEEDBACK
Click Below to:
More like this story