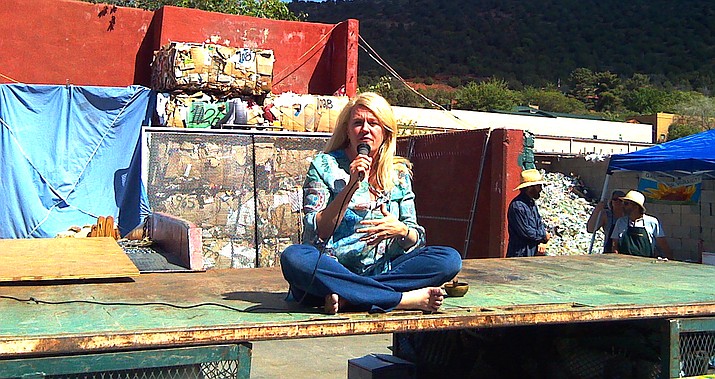 More and more businesses are discovering what we've been saying all along: your environmental footprint increases your competitive advantage. Sustainable businesses have reduced waste, energy & water expenses with increases in employee productivity, market share and revenues.
We now have 35 organizations certified as Sustainable Businesses, in a wide range of industries (community services, health & wellness, home & garden, and retail) all across the Verde Valley, including Clarkdale, Camp Verde, Cottonwood, the Village of Oak Creek and Sedona.
The three newest businesses to get Sustainable Certified are:
• SNAP FITNESS (Lin Ennis, VP/Operations and Marketing, West Sedona Gym location, Bronze),
• SPEX/Sedona Philosophy Experience (Andrea Christelle and Matt Goodwin, owners, offer hikes & retreats at Red Rock State Park, an environmental education center, Bronze),
• McLean Meditation Institute (Sarah McLean, owner, Mindfulness and Meditation Center, Silver).
The certification is a way to recognize and drive business toward companies that do the most for their employees, our community and the environment. There are three levels of certification:
• Conservationist (BRONZE): have reduced their negative impacts on the environment and improved the quality of life for employees and communities.
• Innovator (SILVER): have become producers of sustainable resources, products and energy and are actively influencing customers, suppliers and peers.
• Sustainable (GOLD): are fully sustainable, meeting globally accepted sustainability standards. Their business model is designed around the sustainable mission and share power & wealth with their employees.
Please favor businesses that make our community better. 'Vote with your wallet' by looking for "Who's Certified" in the Verde Valley at SustainabilityCertifications.org/Certified.php. And if you like a business that isn't certified, encourage them to check that same website to qualify.
The Sustainability Alliance was founded by five locally important organizations (Gardens for Humanity, Keep Sedona Beautiful, Sedona Recycles, Verde River Basin Partnership, and World Survival Foundation. The Sustainability Alliance strives to make Verde Valley & Northern Arizona a destination of education on the practices & advantages of sustainable business & homes. Learn more at sustainabilityallianceaz.org.
More like this story