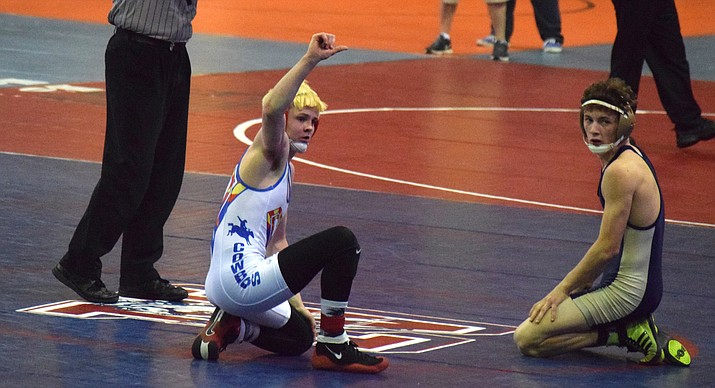 Originally Published: January 4, 2018 2:13 p.m.
Camp Verde High wrestling sophomore Korben Uhler is off to a dominant start.
After winning the 132 pound championship at the stacked Veterans Memorial Invitational Wrestling Tournament at Window Rock, Uhler is 26-0 this season.
"He's getting better and better all the time I don't see anybody beating him," said Camp Verde head coach Tracy Tudor. "He's just technically very good, always in shape, always thinking about wrestling. He's kinda the stereotypical perfect kid."
Tudor said Uhler is "just a good kid."
"He works hard in the classroom, does his best to keep his grades up and stays out of trouble and most of his off time is spent in the sport of wrestling, that's what he does," Tudor said.
Last year he won the 126-pound championship and went 40-1.
"He can be a four-time state champ out of here," Tudor said. "He wants to wrestle in college and he's well on his way to doing it now."
VVN: How did Window Rock go for you?
Uhler: Window Rock went really good, I used moves that I hadn't before and that's what helped me. Also God was with us so we went in there and dominated as a team and as individuals.
VVN: How do you think the season has gone for you overall?
Uhler: The season has gone pretty good for me overall, there has been some mistakes but we've been fixing them in here, so I feel good.
VVN: Is it so far, at the Christmas break, is it where you expected you guys would be at and where you would be personally?
Uhler: Yeah.
VVN: What kinds of things did you work on during the high school offseason?
Uhler: We worked on like trips, singles, some counters, there's a bunch of stuff that we went over.
VVN: How has that work been doing for you?
Uhler: They've been doing good, they've been pushing themselves and they've been pushing me.
VVN: How do you think that you've been growing since last year?
Uhler: I've been growing more definitely in my conditioning, I'm more setting up stuff and that's what I've been working on.
VVN: What are the biggest challenges to going undefeated do you think, this year for you?
Uhler: I'd say it will be these next few tournaments. We got Joseph City, that one will be pretty tough, we got a home one, senior night, then we have Bourgade, where it is pretty much like a preseason of state, it's like our whole section, then we got sectionals and then state.
VVN: How did Christmas break go for you?
Uhler: Christmas break went pretty good, ran before practice, then we had some good practices.
VVN: Do you like wrestling a lot early on and then having that break or doing every week almost?
Uhler: Even on our break I liked us working hard because I don't like taking breaks, I like to keep moving.
VVN: Do you think it is hard to keep that intensity up when you're not having duals and you're just practicing or is it just something that comes kinda naturally?
Uhler: Comes naturally.
VVN: How's school been going for you this year?
Uhler: School's been going pretty good.
VVN: Do you have a favorite move?
Uhler: That would probably be the fireman.
VVN: How come?
Uhler: I don't know, it just flows and it's always there, so I always look for it.