Camp Verde boys hoops takes third at Yvonne Johnson tourney
Originally Published: January 4, 2018 2:20 p.m.
Camp Verde High boys basketball wrapped up 2017 on a high note with a third place finish at the Yvonne Johnson Memorial Tournament.
The No. 33 Cowboys (6-11) went 2-2 at the tournament that they hosted.
"It ran smoothly," said Camp Verde head coach Daniel Wall. "I felt like it was a good competitive atmosphere, there was mostly close games and the teams were competitive, good sportsmanship, the level was similar enough for everybody, so I think we were able to get a good experience, work on what we needed to work on, hopefully start to prep a little bit for (this) week and beyond."
The Cowboys opened with a 52-50 win over Phoenix Bourgade Catholic on Dec. 29. Sophomore shooting guard Jason Collier scored 17 points, senior guard/forward Ryan Loza had 8 points, 9 rebounds, 5 offensive and senior guard Chase Decker 4 steals.
Collier made the all-tournament team.
Then the Cowboys fell 60-46 to Williams. Decker had 12 points and Loza 11.
On Dec. 30 the semifinals the Cowboys lost to 3A No. 1 Tuba City 63-54. Collier had a double double with 20 points and 10 rebounds.
Wall said Tuba City played a kind of half court trap, 2-3 extended that was really aggressive, Round Valley mostly played man to man, Bourgade had a pressing trap and Williams played a 1-2-2 three-quarter court trap with some zone.
"A lot of unique looks, stuff that we're going to have to be able to play against when it comes time for region stuff," Wall said, "good chance to work on a lot."
In the third place game, the Cowboys held on to beat 2A No. 6 Eagar Round Valley 72-70. Junior guard Ismael Hogan scored 21 points, Collier 21 points and sophomore guard Teson Parker had 5 steals.
Wall said the Cowboys need to get more consistent on defense and make better decisions on offense.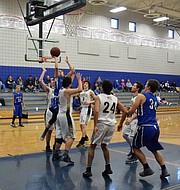 "Those are the two things we've been preaching kinda all season but particularly (last) weekend," Wall said. "I guess we defended well in segments, there were certain times when we really locked in and decided we were going to stay in front of them, we were going to box out, we were going to be off on the weak side, all the little stuff that we preach and we looked pretty good when we do that and we just do it in spurts, instead of very consistently through out the game."
Wall did say that they showed flashed of good offensive play against Tuba City, their best offensive game of the tournament.
The tournament saw the return of sophomore starter Abe Gonzalez and sophomore C.J. Bast, who had bee out with a concussion is expected to be back this week.
"You saw Abe, we didn't play him a ton, (Saturday) was kinda his first day back into game action and he had some spurts of action, he looked really good and was pain free, which was huge," Wall said. "We'll be as close to healthy as we've been all season."
The Cowboys return to action on Friday at 7:30 p.m. when they host No. 25 Glendale Prep to open region play. The Central Region boosts No. 2 Paradise Honors, No. 22 Northland Prep and No. 14 Sedona Red Rock.
"Our region's tough," Wall said. "The level is very high and so we keep preaching to the kids to just continue to work on our process and we'll kinda see when we get there but Glendale Prep will be kind of a good indication on Friday of where the kids are at and what are some of the things we need to continue to work on."
More like this story
SUBMIT FEEDBACK
Click Below to: