Glamping: Luxury camping comes to Sedona/VOC
The amenities of a full-service hotel with the adventure of a camping experience

Originally Published: January 4, 2018 1:03 p.m.
Karen Abbott and Mark Boyko are as excited as children planning an overnight campout as they show off their backyard "glamping" business behind their home in Sedona.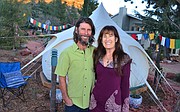 The married couple have set up four heavy-duty tents called "Pods" on platforms, and created a backyard oasis with a waterfall, fruit trees, plants and hammocks, all under Tibetan prayer flags and, at night, real "stars."
It's called Southwest Campouts located near the Village of Oak Creek.
There is a yoga yard, hot bamboo-lined shower, fire pit and outdoor grill and kitchen with a refrigerator, sink, sofa and porch to hang out on, hula hoops, hot tub and even a dog named Finn.
Pouring from a glass container is Kombucha, and local beer is also available.
The interior of the Pods are comfy and guests lay down on large double-deluxe air mattresses made up with sheets, "the warmest down-comforters" and pillows. The tents have lanterns that encase the lodgers in a warm golden light in the Red Rocks nighttime. The setting sun reflects off the views of Bell Rock and Courthouse Butte as a flame burns in the fire pit.
In the middle of it all, Karen and Mark are the perfect outgoing, fun-loving couple who seem to absolutely enjoy their roles as new-wave innkeepers touting the wonders of Sedona.
But it's not all fun and games. This is serious business.
How it works
The couple's "glamping" business is listed on Air B&B under vacation-home rentals and run from $95 to $75 a night.
Glamping is for people who want to camp in luxury, and as an alternative to higher priced hotels, motels and other vacation-home rentals.
"The amenities of a full-service hotel with the adventure of a camping experience in one of the most beautiful places on earth, Sedona, Arizona," the Southwest Campouts brochure explains.
Guests don't have to bring anything that you would normally bring camping, Mark points out. Down comforters, linens, dishes, forks and knives, foil, pots and pans and even a complimentary coffee station are provided.
Southwest Campouts has four luxury tents or "pods" from which to choose. The largest tent is the 10-sided Lotus Belle, complete with an electric fireplace, towels and a place to hang clothes. That's a $4,300 tent, he explained, adding that their tents are so durable, that they are "Burning Man worthy."
The other three less-expensive tents are the Red Rock Pod, the Waterfall Pod and the Blue Sky Pod.
Pods can be booked through Air B&B, or people can go to their website, Facebook Page or call the couple directly.
Mark said they got the idea when family and friends had been staying in their backyard and explained how beautiful it was.
"Sort of a lightbulb went off," Mark said. So they set up one tent and people thought it was nice, so it took off from there, he said. They starting operating less than a year ago, he continued. The couple did it all on their spacious property and did not purchase any land specifically for the glamping business.
The trend is catching on. An internet start-up called Hipcamp provides a site that hooks up landowners with campers the way Air B&B links renters.
"Hipcamp lists 10,000 private campsites nationwide — ranging from private land and public campsites to cabins and tiny homes — and it's adding thousands more every month," including private landowners, ranches, farms and vineyards, according to a USA Today story on Aug 7, 2017
Having fun
"We at an age where we like seeing other cultures come here," he said. They come here because they are nature lovers and they come from places all over the world like Spain and Honduras on vacation. Mark said they had a family from India with children.
Mark said one woman from Israel was a professional Texas Hold'em tournament "star" and she even tried to teach him how to play poker.
Mark said they are doing the glamping business to supplement their income. Mark is a landscaper and Karen is a yoga instructor.
Being a landscaper helped him create his unique glamping atmosphere, which includes a communal fire area surrounded by red rock boulders and pillows, work station for mountain bikers, fruit trees and a small waterfall to provide the "sound."
Mark said guests also prefer to have a host on-site. "They ask where is the hiking, where's the mountain-biking?"
It can be turn-key but that is not personal. He said he has stopped guests bringing in sleeping bags and camping equipment from their cars not realizing this was "glamping."
"We like to get to know the people, to make sure they are having a good time," Karen added.
"At night is when it's really beautiful," Mark said. "We have beautiful lights, mainly everything on solar, LED lighting." Pillows rest on large red rock blocks for people to cuddle with while sitting around the campfire.
Like being on a permanent vacation
Late one recent afternoon, Karen was busy changing over one of the tents for incoming guests as a photographer tried to snap photos. The pods were booked.
In fact, they were booked through the Christmas and New Years' holidays and into the first week of January. "A solid 16 days," Mark said. Then they will get a break before the busy February season in Sedona, he said. They have hired a couple from Colorado to fill in as "hosts" to give them a break during the busy season.
Mark said that they host artisan workshops at the backyard campground as well as the yoga classes several times a week. The site would also be great for family reunions and retreats.
"It's so beautiful here and we have all this land," Mark continued. "We started having friends and family staying here and they were like 'this is amazing' – you're like on a permanent vacation."
More like this story
SUBMIT FEEDBACK
Click Below to: