Mingus girls basketball goes 2-2 at Prescott tournament
Originally Published: January 4, 2018 2 p.m.
Mingus Union girls basketball wrapped up 2017 with a split at the Prescott Lady Badgers Winter Classic.
The No. 23 Marauders (7-9) went 2-2 in Prescott and their play inspired confidence.
"I thought we did very well," said Mingus head coach Frank Nevarez. "We ended up 2-2, won two, lost two, but in all four, especially the two we lost, we had our chance at the end. I think we're learning how to win. Both games I think the pressure towards the end to either maintain the lead or get the lead, we made some mental mistakes but I think it's just part of growing and we're learning how to win, so we did well."
Mingus Union opened the tournament with a 42-33 loss to Bradshaw Mountain on Dec. 29. That afternoon they beat Wickenburg 60-26.
In their last game before the tournament on Dec. 15, they lost 56-47 to Bradshaw Mountain at home.
"We did really good, we ended up 2-2 but the games we lost were extremely close scoring games," said senior forward Nikki Zielinski. "We should've went 4-0 but we did pretty well at the end."
On Dec. 30, the Marauders lost 42-41 to 6A Tolleson Union but closed out the tournament with a win over Lee Williams 46-39.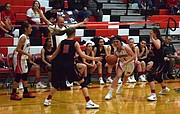 "I think it went very good, it was definitely a learning experience and we had a lot of fun, not just us ourselves but as a team," said junior forward Darien Loring.
The Marauders travel to Lee Williams to face the Volunteers next week, then host them in early February. On Jan. 23 they play their road game at Bradshaw Mountain.
"We definitely love playing teams that we've already played and we're gonna play again," Loring said. "The closer the teams are, the more fun and because they're more of a rival than anything."
Zielinski said in addition to Bradshaw and Lee Williams it was fun to play different teams to see how everyone plays.
Yuma Cibola won the tournament and Bradshaw Mountain took third place. The tournament featured teams from across the state, from Yuma to Marana to Cottonwood.
"You had 6A teams, 5A teams, the majority were 4A teams and I think one was 3A, so the one we lost to, the 6A team, we lost by one and we should have won," Nevarez said. "The competition was good."
The Marauders went 1-4 in their first tournament, the Red Rock Classic in Sedona, in early December.
"It's grown a lot," Zielinski said about the team since the Sedona tournament. "We had one game where we blew out a team by a lot of points and just the way we came together and played in that game I think is showing how we're coming together."
Although the Marauders didn't play for 14 days between the Bradshaw games, Nevarez said they came back ready. He said they didn't lose any players to eligibility concerns after the semester ended.
"They were focused, like I said, they played well," Nevarez said. "Four games, four very consistent games and when you look at us, either trying to get the lead or maintaining the lead, that's what we need to work on. Again, that's just learning how to win."
With the calendar changing to January, the Marauders now have a more regular schedule than the one they had in November and December as they try to maintain their top 24 ranking. The teams ranked ninth through 24th participate in the play in game for the state tournament.
"This month is going to be big for our team," Zielinski said. "We're playing some teams again that we played at the beginning of the season, so it's important that we play good to beat them again."
Loring said the Prescott tournament will help them a lot.
"I think that since we had this tournament, it's going to help us especially because we play the hardest team coming back on this coming Friday," Loring said.
On Friday the Marauders travel to No. 1 Flagstaff. Their next home game is Jan. 16 against No. 32 Prescott.
The tournament also saw the return of Nevarez, who missed the home Bradshaw Mountain game due to an injury he sustained in practice.
He said he's doing "much much better."
"My leg is healing up, I ended up tearing my calf muscle but we're doing well, I'm proud of the girls," Nevarez said.
More like this story
SUBMIT FEEDBACK
Click Below to: