Glendale Prep holds off Camp Verde boys basketball
Originally Published: January 6, 2018 2:08 p.m.
Despite a big comeback from Camp Verde High boys basketball, Glendale Prep bested the Cowboys.
No. 34 Camp Verde (6-12, 0-1 Central) lost 65-59 to No. 24 Glendale Prep (10-7, 1-1) on Friday night at home.
After getting behind by almost 20 points early, the Cowboys rallied.
Camp Verde head coach Daniel Wall said the message to the players after the games was that they have to be better prepared to play at the start of games.
"We put ourselves in a hole in the first quarter for about the fourth straight night," Wall said. "After that we righted the ship a little bit, played very well in the third, that was obviously our best quarter, the press was working a little bit better, tweaked some stuff at halftime and then down the stretch I think we were a little bit fatigued and that played into some of the choices we made."
After the first quarter, the Cowboys trailed 19-6 but cut the deficit to 10 at the half. In the third quarter CV cut it to one and the score was eventually 59-59 before the Griffins went on a 6-0 at the end of the game.
"Sometimes that happens, where you get down the stretch and stuff just doesn't go quite your way and gotta find a way to fight through that," Wall said. "Learning how to win those close games and what it really takes down the stretch to finish, I think that's what we're still trying to figure out right now."
Sophomore shooting guard/small forward Abe Gonzalez returned to the starting line up after injuring his shoulder at the PCDS Desert Classic in early December. He scored 21 points, was 4-for-4 from beyond the arc, had 5 blocked shots, 6 rebounds and 3 steals.
Wall said his return was "huge."
Photo Gallery
Camp Verde Boys Basketball Glendale Prep Jan 6 2018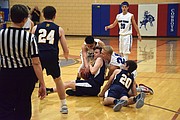 Glendale Prep beat Camp Verde boys basketball 65-59 (VVN/James Kelley)
"He's an animal, I think he had 21 and 4-for-4 from three point line but I think more than that he just brings a presence where he's able to not force things," Wall said. "I mean he takes a shot when it's there and moves the ball offensively when he needs to, he defends the heck out of it He changes the way we're able to play a little bit and it was really good to have it back out there."
Junior guard Ismael Hogan scored 10 points and five steals. Sophomore shooting guard Jason Collier had 15 points.
Wall said the two biggest areas where the Griffins hurt the Cowboys in the first half was in transition and offensive rebounds.
"There was several times make or miss, make where we didn't get ourselves set in the half court — we weren't even pressing early on —and then when we were pressing we were really slow to set it up and then missed shots we were just slow in transition," Wall said. "We give up eight points I think in the first half off of second chances and that's something that we work on and preach and we know we can't do that if we're going to win games."
The Cowboys return to action on Tuesday when they take on No. 14 Sedona Red Rock on the road at 7 p.m. Their next home game is on Jan. 16 against Northland Prep at 7 p.m.
Wall said it was impressive for a young team to come back like they did.
"Even to fight back to within 10 at half time I thought was huge, it just gave us a little bit of second life coming out and then like I said, they really bought into what we wanted to do to adjust the press the press a little bit and that was the key in that third quarter run for us," Wall said. "We just gotta keep working on that in practice, because we still had some big mistakes in the fourth quarter in that press and gave them some easy stuff and we gotta fix that."
More like this story
SUBMIT FEEDBACK
Click Below to: