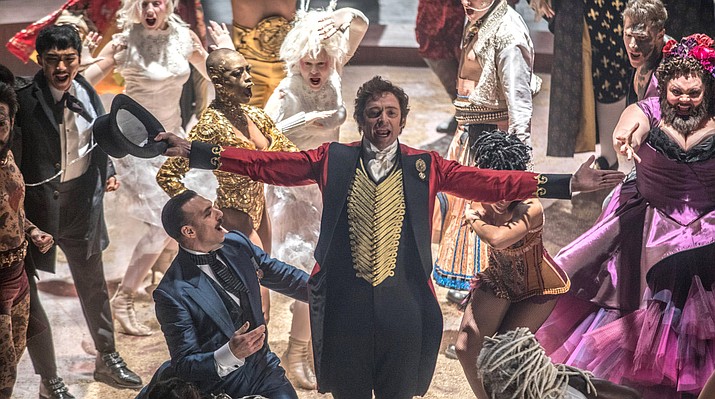 ---
---
The Greatest Showman is a thoroughly entertaining film.
It has the necessary ingredients to please the audience — very good acting, fine musical numbers well sung, beautiful cinematography and costumes, and wonderful, outstanding choreography.
The Greatest Showman also has a story with the musical stars playing roles in a quasi-biography of P. T. Barnum of circus fame.
But the story of his rise to success, from poverty and deprivation to the master of show business is less wonderful than the music.
Barnum was the son of a poor servant in the mid-19th century.
He marries Charity, the girl he has been in love with since childhood.
She has always loved him, but her wealthy aristocratic family cannot abide her connection (much less marriage) to a ragamuffin.
Phineas wins her away from her overbearing father and promises her he will make her life wonderful. For several years he is unhappily entrapped in a low-level office job.
The idea of a 'show' occurs to him when he meets a dwarf with a commanding personality and then comes upon a woman who is a beautiful singer, but has a fully bearded face — a freak of sorts. He is inspired to use this theme to attract people to view these unusual figures and others that he seeks out and engages.
All the odd-looking characters are involved in the dance numbers, with Barnum in front, that are a major part of the show and the film.
Barnum becomes successful and rich and famous. He faces strong opposition from protest groups who are not happy about the celebrity and accolades bestowed on the 'freaks.'
Barnum meets a young man who is involved in theater productions — Phillip Carlyle.
He convinces Carlyle to join him as partner in the production of the 'circus.' Carlyle falls in love with one of Barnum's acrobats, Anne Wheeler, an African-American trapeze performer.
Carlyle has problems with his rich family who can't accept the interracial relationship.
When the show is invited to England to perform for Queen Victoria, Barnum meets the famed opera star, Jenny Lind, the Swedish Nightingale who is also on the program.
Barnum convinces her to come to America to perform there for the first time.
She accepts and this is a segment of The Greatest Showman that is not fun.
He accompanies Jenny on her tour and there is every indication that they have an affair, which he denies when he is back home to Charity.
It seems unlikely that the story of Barnum, the man, is as simply straightforward as depicted here.
But Hugh Jackman's performance as Barnum is first-rate and probably close to Barnum's real bombastic personality.
Michelle Williams as Charity, Zac Efron as Carlyle, Zendaya as Anne, Rebecca Ferguson as Jenny and the leading members of Barnum's troupe all do very well in their roles, especially in those terrific dance numbers.
The Greatest Showman is at Harkins Sedona 6 Theater.