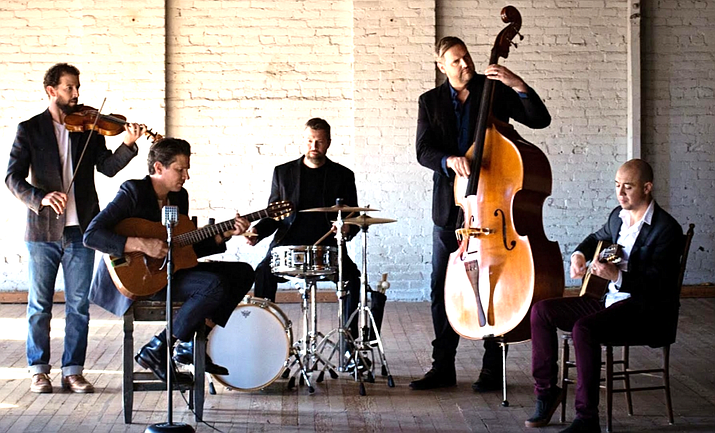 ---
---
Combining old world romance with new world form, The Black Market Trust brings you a simple, elegant and well-defined classic sound that you will be tapping your toes to.
If You Go ...
• What: Black Market Jazz Gypsy Swing Band
• When: Jan. 13 at 7 PM and Jan. 14 at 6 PM
• Where: Sound Bites Grill, 101 N Hwy 89a Sedona AZ, 86336 at Hyatt Pinon Pointe Shops Uptown Sedona
• How Much: $15 to $25 depending on seating
• More Info: 928-282-2713 • www.soundbitesgrill.com
This American pop/vocal jazz band will be performing Saturday Jan. 13 starting at 7 p.m. and Sunday, Jan. 14, starting at 6 p.m. in the Sound Bites Grill Celebrity Show Room.
The Black Market Trust, having played in Sedona the last two years, is setting out on their 2018 tour with Sound Bites Grill being their first destination before heading to Tucson and then off to North Carolina.
The five members of The Black Market Trust, Jeffrey Scott Radaich, Chris Irwin, Brian Netzley, Brandon Laws and Nick Coventry imbue the album with an obvious love of music and contagious, upbeat, toe tapping joy.
The rapport The Black Market Trust has built from their many live performances together is evident when listening to "Just One of Those Things." The cohesion and communication that developed through their many performances together shines through, and makes for a compelling listening experience.
The five-member jazz band is based in Los Angeles. Since the 2012 release of their all instrumental debut album "The Black Market Trust," a milestone in the genre of gypsy jazz, the band has gone on to record two more albums, maintain a busy touring schedule, and have had their music featured on TV shows like the ABC television series "Happy Endings" and the Hulu original program "Casual."
The band features the Django Reinhardt inspired gypsy sound of acoustic instruments, and infuses classics from The Great American Songbook with intricate vocal harmonies inspired by The Beach Boys, and other artists influential to the group. Their sophomore album "II" featured a Top Ten hit on the Adult Contemporary charts, a signature version of "Route 66."
The lead guitarist Jeffrey Scott Radaich has gained notoriety for his songwriting, as well as his technical prowess and musicality. He has been touted as one of the most innovative and influential American acoustic gypsy jazz guitarists today.
From 2009 to 2015 bassist Brian Netzley along with guitarist Radaich, were members of the groundbreaking Gonzalo Bergara Quartet, whose rapid rise in the jazz world was cemented by twice headlining the prestigious Django Reinhardt Festival in Samois-sur-Seine, France (the final resting place of Jazz icon Django Reinhardt).
Using Radaich's emotive, light baritone as the focus and surrounding it with Netzley's pure tenor and Irwin's rich bottom-end, the band's sound is a synthesis of two distinctly different vibes, one of a gypsy campfire and the other a slick metropolitan nightclub, into a cohesive, stylish sound.
Sound Bits Grill is located at the Hyatt Pinon Pointe Shops in Sedona. For more information and full calendar of events visit SoundBitesGrill.com or call 928-282-2713