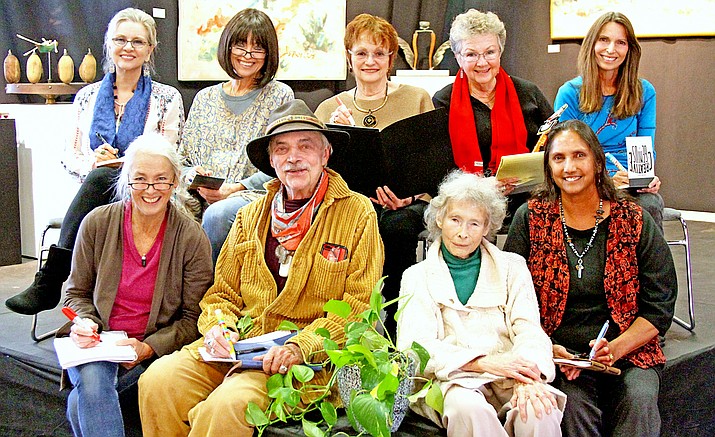 ---
---
January 10th at 5 p.m.,the Healing Interconnections: Nature, Spirit, Art exhibition offers an evening of poetry and music.
Performed amidst visual art by Adele Seronde and Jacques Cazaubon Seronde, sculpture by Edie Dillon, and paintings and weavings Eveline Horelle Dailey, musicians and poets will share their performing art with the audience seated in a shared space of beauty and inspiration.
The poets who will be reading their work include Marita Gale, Melanie Lee, Carla Riedel, Barbara Mayer, Kate Hawkes, Gary Every, Mary Heybourne, Sharron Porter, Jim Bishop, Connie Patrick, Liz Hargrove, Wendy Harford, Martha Entin, Todd Metcalf, Bonnie Hartenstein, Peaches Bedoni and Adele Seronde.
The art exhibit and this poetry event has been inspired and led by Adele Seronde, coming from a six-generation lineage of artists.  She is both a writer and painter, whose work has been exhibited throughout the USA and in Italy.
Other events planned during the exhibition include a panel discussion co-hosted by Gardens for Humanity and the Natural History Institute investigating the latest information on the relationship between Nature and Healing on Wednesday, January 24th (6-7.30pm). The exhibit closes on Friday January 26th with a celebratory dance concert beginning at 7pm, featuring an exhilarating band of musicians, Jonathan Best and Moving Edge, guaranteed to get you moving, coming over to Sedona from Prescott. 
Join in with an evening of the arts at the Sedona Hub on Wednesday January10th from 5-7 with poetry and music surrounded by the visual art of Healing Interconnections: Nature, Spirit, Art.