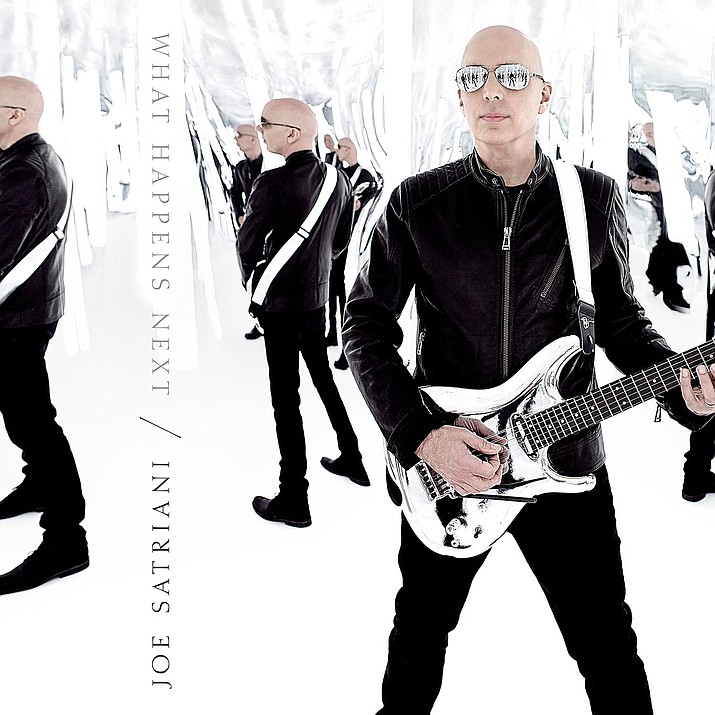 ---
---
Joe Satriani – What Happens Next
Sony Legacy Records
Joe Satriani's 16th studio album is What Happens Next, a high-energy album that takes the legendary guitarist s skills to exciting new heights. The new instrumental album features a power trio of Satriani on guitar along with two Rock and Roll Hall of Fame inductees: Deep Purple/Black Country Communion bassist Glenn Hughes and Red Hot Chili Peppers drummer Chad Smith. This unparalleled rock rhythm section gives What Happens Next a depth of groove that sets it apart from Satriani's other work.
This album showcases Satriani's gift for constant evolution and reinvention as a bandleader and composer of intricate guitar-driven rock. The album finds Satriani discovering sounds and textures never before heard from an instrument he has unquestionably mastered over his three-decade solo career.
Tracks: Energy, Catbot, Thunder High On The Mountain, Cherry Blossoms, Righteous, Smooth Soul, Headrush, Looper, What Happens Next, Super Funky Badass, Invisible, Forever and Ever.
Black Rebel Motorcycle Club – Wrong Creatures
Imports Records
Wrong Creatures will be the eighth studio album by American rock band Black Rebel Motorcycle Club. The album will be released through Vagrant Records.
Four singles released in late 2017 have been released ahead of the album: "Little Thing Gone Wild", "Haunt", "Question of Faith", and "King of Bones".
Tracks include: DFF, Spook, King of Bones, Haunt, Echo, Ninth Configuration, Question of Faith, Calling Them All Away, Little Thing Gone Wild, Circus Bazooko, Carried from the Start, All Rise.
Anderson East – Encore
New Elektra Records
Encore features 11 songs, including "All On My Mind" (written by Ed Sheeran, Johnny McDaid, East and Aaron Raitiere), "King For A Day" (written by East, Chris Stapleton and Morgane Stapleton), "Girlfriend" (written by East, Cobb, Raitiere and Tim Bergling) as well as renditions of songs by Ted Hawkins and Willie Nelson. The release of Encore culminates a breakout series of years for East following his widely praised debut album, Delilah, which NPR Music called "an eclectic, fully formed debut."
Tracks include: King For A Day, This Too Shall Last, House Is A Building, Sorry You're Sick, If You Keep Leaving Me, Girlfriend.