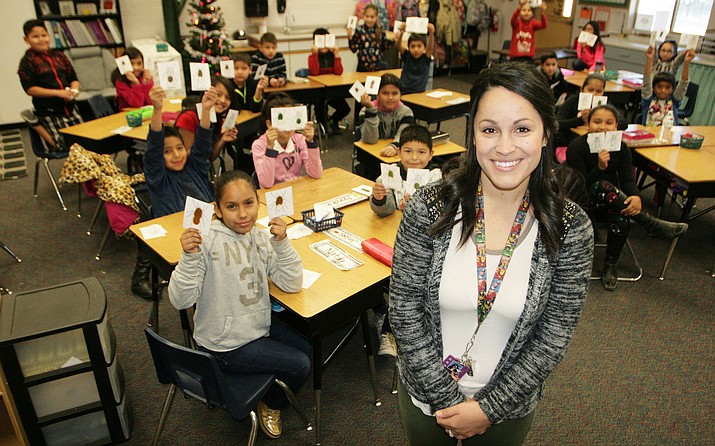 Originally Published: January 9, 2018 11:38 a.m.
COTTONWOOD – A "Michelangelo in the teaching profession" is how Jessica Vocca describes Maranda Moran, her school's third grade teacher.
Moran "is more than a teacher," says Vocca, principal at Cottonwood Elementary School. "She is an artist with a shiny new canvas and so much potential."
Despite a Bachelor's Degree in Psychology, Moran says she knew that she wanted to be a teacher "when I took my first job at a daycare center."
"I loved interacting with all the kiddos and being able to still be a kid myself," Moran says. "I would go home every night thinking about what I could do with them tomorrow that they would enjoy."
According to Vocca, Moran likes to challenge herself and "is anxious to receive constructive feedback to develop her qualities inside the classroom."
Moran says her favorite thing about teaching is that she can give her students someone "they can count on."
"The most rewarding thing to me is getting through to a struggling student," Moran says. "I don't mean when they finally get an A on their report card, but when they are able to confide in me about something or when they reach out to me for help. That is the true reward with these kiddos."
TEACHING STYLE
"My teaching style is a very hands-on, collaborative type of model. I like to get students involved in every process of learning. I like to make sure I model what I expect in the classroom. I first show students how to do something, we then do it together with my guidance, and then they move on to doing it independently. This shows mastery of content.
"I also love to give students multiple ways to show off their knowledge of a subject and their strengths to become great problem solvers. Every student is great at something; it's our job in finding out what makes them shine. This is what grows them into confident individuals."
NOTABLE
"Nominated for First Year Teacher of the Year for Yavapai County in 2016, which has been my dream ever since I decided I wanted to be a teacher.
"I was teaching as I was earning my Master's in Education Degree."
QUOTABLE
"I enjoy being an educator with every piece of my heart. A lot of students in our community do not have someone that really and truly cares for them and I strive to be that one person in their lives.
"Yes I am here to teach them, but I am also here to make them feel loved, cared for, and special, even if it is just for those three seconds in the day that I ask them how they are. I want to inspire students to believe in themselves and believe they can achieve so much more than they could ever imagine.
DID YOU KNOW?
"I was the first person in my family to finish high school and attend college and earn a Master's Degree. I am very thankful that I had my dad to push me and believe in me, without that support I would not be the person I am today."