Camp Verde boys hoops falls at No. 17 Sedona
Originally Published: January 11, 2018 2:05 p.m.
SEDONA — After a strong start, Camp Verde High boys basketball faltered at Sedona Red Rock.
The No. 17 Scorpions beat No. 37 Camp Verde 69-51 on Tuesday night at home.
"We gotta handle pressure better, they really hurt us in their traps and presses, I was pretty disappointed with our effort overall (Tuesday) night," said CV head coach Daniel Wall. "We started out hard, had some pretty tough calls early on, I mean it's part of the game, we gotta find a way to adjust and we didn't respond extremely well to that."
After leading early, the Cowboys fell behind 19-12 after the first quarter, then the second the Scorpions extended their lead to 16 at the half and then 59-33 after three periods.
The Scorpions improved their record against their rivals to 15-10 since 2004.
"After those quick hand check calls, which by the rule that is a foul, we gotta adjust, but we kinda got tentative defensively and started giving up dribble penetration and we fouled more and gave up free throws and stared giving up 3s," Wall said. "We were hanging for a little bit and then they put the press on and I don't feel like we did a great job handling the pressure and that definitely gave them some nice opportunities. They did a good job with their press and we got to work and get better about handling it."
Photo Gallery
Camp Verde Boys Basketball At Sedona Red Rock Jan 9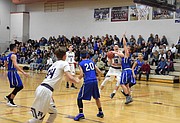 Sedona Red Rock boys basketball beat Camp Verde 69-51 (VVN/James Kelley)
Wall said being a young team can hurt their chances of playing through calls that go against them.
"Part of it is experience and part of it is just being mentally tough, figuring 'OK, how do I adjust my game' because at least they consistently called hand checks," Wall said. "We just got to find a way to be better on the mental side."
Sophomore Jason Collier lead the Cowboys in scoring with 11 points. Junior Ismael Hogan had 10.
Wall said the Scorpions' press helped them build up the lead.
"They pressured us pretty well and I didn't feel like we handled it extremely well and we maybe handled it twice in a row decently and get something and then we dribble into trouble or we pass to the corner or things that probably not to do against the press but we weren't thinking clearly and they just did a good job of taking us out of our rhythm," Wall said.
The loss dropped the Cowboys to 0-2 in the Central Region and last place. Sedona Red Rock is 1-1 in the region and in second. On Friday the Cowboys travel to No. 4 and undefeated Paradise Honors. The Panthers beat Sedona Red Rock by 34 points.
"Every game is important with four teams in your region and you got eight games, that's it," Wall said. "That's part of it too, not dwelling on the issue but trying to fix the mistakes that we have and trying to get ourselves ready to roll for Paradise Honors on Friday, which will be another game that is a lot of pressure and things that we're going to need to adjust to and figure out how to handle that."
More like this story
SUBMIT FEEDBACK
Click Below to: