Camp Verde school board begins search for new superintendent
By
Bill Helm
|
BillHelm42
Originally Published: January 11, 2018 3:03 p.m.
CAMP VERDE – When Camp Verde Schools Superintendent Dr. Dennis Goodwin told the board in December that he would no longer seek a renewal to his current contract, he didn't necessarily say he wouldn't entertain an entirely new pact.
Tuesday, the District's governing board decided that regardless of what their superintendent meant, that their plan is now to find his replacement.
On a 3-to-1 vote, the board decided to solicit the services of Arizona School Boards Association (ASBA) to fill the position held by Dr. Goodwin since July 1, 2015.
Moving forward
Dr. Goodwin spent much of 2017 wondering when – or whether – the Camp Verde school board would be interested in negotiating a contract with him. Though the topic was discussed several times at CVUSD board meetings, a contract was never offered.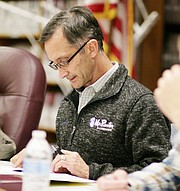 Before the CVUSD board's vote Tuesday, board member Kitty McDowell said that she thought it "a little on the premature side" to move on from Dr. Goodwin "because we haven't decided if we're going to offer the superintendent a contract."
"I didn't understand [his Dec. 12 letter] to mean he wouldn't accept a renewal," she said.
But offering a contract to Dr. Goodwin had not been agendized for the Jan. 9 meeting, board member Helen Freeman responded.
"The sooner we begin [the search for Dr. Goodwin's replacement], the better off we are as a district," Freeman said.
Dr. Goodwin's last day with the district is scheduled for June 30.
Also Tuesday, the Camp Verde school board voted 4-to-0 to name Tim Roth the board's president for 2018. Roth replaces Christine Schneider.
With two votes for Kitty McDowell and two votes for Helen Freeman, the board agreed to vote again in February to name a clerk for 2018.
-- Follow Bill Helm on Twitter @BillHelm42
SUBMIT FEEDBACK
Click Below to:
More like this story