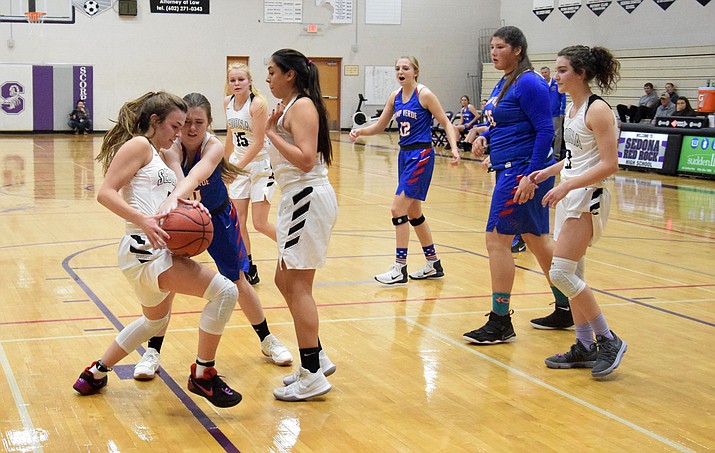 Originally Published: January 11, 2018 2:25 p.m.
SEDONA — Camp Verde girls basketball lost at Sedona Red Rock to drop their first regular season game to a conference foe.
The veteran and No. 3 Scorpions beat No. 6 Camp Verde 62-36 at home on Tuesday night.
"After watching this team for the last year and this year, I'd chalk (Tuesday) night up to youthfulness, playing four seniors and a sophomore against four sophomores and a freshman, basically that's what it was most of the night," said CV head coach Mark Showers. "Our junior wasn't playing (Tuesday) night. So our youthfulness, when things starting getting away, instead of pushing through it and buckling down and taking care of some things, some adjustments that needed to happen, those things didn't take place and when I put people on the floor that needed to be able to take care of some things in certain areas, they weren't really sure what to do and that's the mark of a team that's not a veteran team."
Last season Sedona Red Rock made it to the state semifinals.
The Scorpions jumped out to a five point lead in the first quarter, which grew to 15 at the half and then 55-26 after three quarters.
Showers said the game was actually a good thing for the Cowboys, who usually this season have been the ones handing out the blow outs.
"If you have a veteran team you go 'okay, we're going to change things up and have you do this and this. Now you're not used to this but this is what we've going to have to do,' and they just do it," Showers said. "A young team freaks out, 'oh, what does he want me to do? I don't know what he wants me to do' and that's really what for the most part the game was, youthfulness, they just struggled to overcome the adversity and that's actually a good thing, because if every game we played was like against Chino Valley or against Bourgade or against Mingus Mountain Academy, they'd never learn those lessons, so playing a team like this, especially as young as we are and as good as they are, it's good for us, really good for us because it's going to make them
Photo Gallery
Camp Verde Girls Basketball At Sedona Red Rock Jan 9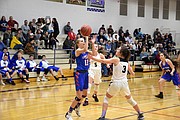 Sedona Red Rock girls basketball beat Camp Verde 62-36 (VVN/James Kelley)
stronger and tougher in the future."
Showers said that No. 1 Leading Edge Academy – Gilbert and No. 2 Valley (Sanders) are the class of the conference but that Sedona Red Rock is not far behind.
"They gotta be like right where they're at, three, four or five, is where they'd be in the state right now," Showers said. "I don't think they can beat Leading Edge or Valley Sanders, but I don't think any of us can, unless some crazy planet alignment happens. Those are the two top teams in the state and I think Gilbert Christian is in the running there too and then the rest of us are fighting it out for the rest of the spots."
Gilbert Christian was ranked No 7 as of press time.
Camp Verde's record against their rival since 2004 dropped to 16-8.
Showers said he wasn't worried about the young Cowboys losing confidence after the loss to Sedona Red Rock. Rather his concern is their lack of a fast break.
"We were doing really well up until we faced Valley Christian and they beat us by 25 down at the Country Day Tournament, they're a good team, they're defending 3A state champs," Showers said. "The one thing you learn about young kids is: they're resilient and when the game's over, they're out there having fun and hooping it up and they'll be back practicing in the morning ready to go, so I don't really worry about that."
Up next for the Cowboys is a trip to No. 14 Paradise Honors on Friday. Their next home game is on Tuesday when they host Northland Prep at 5:30 p.m.
Showers said that the player that most impressed him against the veteran Scorpions was freshman Maya Hedges.
"I'm the most happy about Maya Hedges," Showers said. "She competed hard (Tuesday) night and not that the rest of the kids didn't but I thought as a freshman, she just played hard I don't know if she realized she was a freshman or not. She got after it and I thought she did a nice job."
More like this story