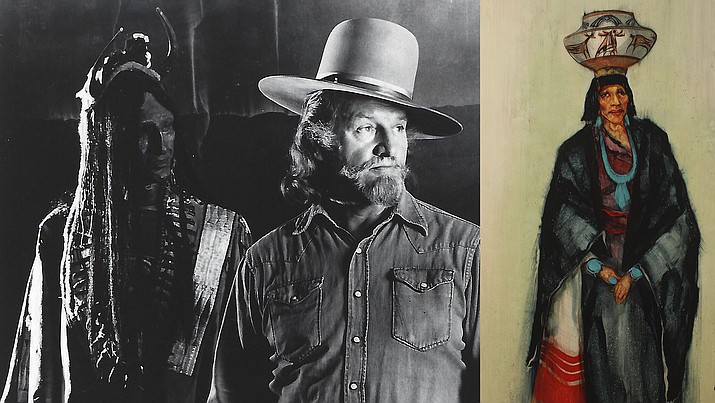 ---
---
The Verde Valley Archaeology Center has announced the inauguration of the Paul Dyck Celebration of Archaeology in Art show and sale as part of the annual Verde Valley Archaeology Fair.

The Paul Dyck Celebration of Archaeology in Art Show and Sale will become an annual event as part of the weekend-long Camp Verde Spring Heritage Festival that includes the Verde Valley Archaeology Fair, the Spring Pecan and Wine Festival, and the Verde River Runoff. The Festival has become a Sedona/Verde Valley area favorite and will again take place in heart of historic Camp Verde, Arizona. Last year's event drew crowds of more than 5,000.
The art show is being named after Paul Dyck (1917-2006), a local artist and descendant of Sir Anthony Van Dyck (1599-1641). Having grown up among various Plains Indian tribes, Paul was well known for his paintings depicting Native American life. He was given the name "Rainbow Hand" by the Sioux, among whom he lived for many years.
Past people have shaped the landscape of the Sedona/Verde Valley area. They left their mark through their dwellings, markings on rock, and the terracing of the landscape. Art can provide a visual interpretation of the landscape of these past people along with the scientific interpretation of archaeology. The goal of this Celebration is to demonstration the relevance that the past has for today's contemporary artists that are evoked by the art and artifacts of our ancestors. The theme is "Art Inspired by Archaeology and Archaeology as Art." Subject matter is limited to archaeological subjects, including ancient dwellings, rock markings (rock art), landscapes, or art inspired by the ancient American Southwest textiles and pottery.
The Celebration is a juried show open to all artists 18 years and older. Accepted medium include original, contemporary, representational art including oil, pastel, watercolor, acrylic, mixed media, bronze and wood sculpture, pottery, fiber arts and photography. Awards will be given for Best in Show in meeting the theme, Award of Excellence, People's Choice and Awards of Merit. Full details for artists to apply can be found on the website at vvarchcenter.org/artshow.
Special Paul Dyck Original Artwork Display
While in southern Alberta, the family lived with the Blackfoot Tribe, a situation that began Paul's life-long interest in the Plains Indian culture. During his lifetime, he lived among the Cheyenne, Blackfoot, Crow, Oto, Pawnee, Kiowa, Comanche, Zuni, Navajo, Hopi and Apache.
Paul's family returned to Europe in 1921. Being descendants of Sir Anthony Van Dyck, his family decided that Paul was to train to be an artist. At age 12 he was sent to apprentice with his Uncle Johann van Skramlick, a well-known European portrait painter. At 15 he trained at the Munich Academy. Paul returned to New York in 1934, where he stayed for about three weeks, but then went to South Dakota to see his friend, One Elk, a Lakota Sioux holy man. Paul married One Elk's daughter, Fawn. It was during his time living with the Sioux people that they gave him the name Rainbow Hand, an appropriate name for a person who created beautiful paintings.
In 2016, the Paul Dyck Foundation Research Institute of American Indian Culture gave the Center three original paintings. One has been on display at the Center near the artifact collection. As part of Arizona Archaeology and Heritage Awareness Month, the family has graciously loaned three additional paintings for temporary display that will run through the month of March.
The Center is located at 385 S. Main St., Camp Verde. The museum exhibits are open free to the public Tuesdays through Saturdays from 10 am to 4 pm. Additional information is available at www.vvarchcenter.org, or by calling 928-567-0066.