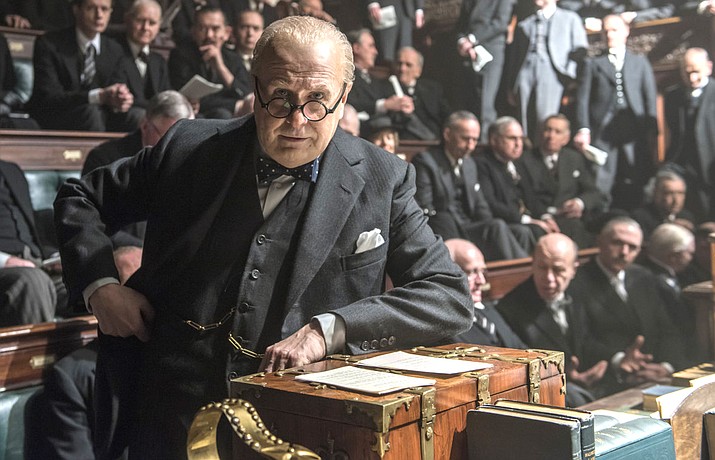 ---
---
Darkest Hour is a depiction of a few weeks that changed — saved— the free world.
And it is just about all true. The proceedings in England's Parliament and official meetings are on record.

What we learn, besides that, is about Winston Churchill's personality and most of that is fact based.
In the spring of 1940, Germany under Hitler has ravaged most of Europe.

Neville Chamberlain, then Prime Minister of the UK, struck a peace deal with Germany, which Hitler scrapped as soon as Chamberlain left Germany.

King George VI appointed Churchill to replace the disgraced Chamberlain.
300,000 British soldiers were beaten back in France to the beach at Dunkirk with no means or hope of getting out alive.
There was a strong move among the citizenry and some of the political leaders to negotiate with Hitler to save those troops. Churchill was vehemently opposed to any more negotiations with Hitler.
He felt that submission to Germany would not only doom the Dunkirk troops, but would mark the end of the British Empire.


Darkest Hour is all about the infighting and debating in London among the Parliamentarians.

Most of that action is between Churchill and Viscount Halifax.
Halifax was the King's first choice to replace Chamberlain, but he declined and Churchill was then named.
Halifax strongly believed that battles and killing would not save the UK; Germany's military strength was far beyond Britain's. Churchill ultimately prevailed, with his "We shall never surrender. Never!"
In Darkest Hour we get an extensive look at Churchill's short temper and his intolerance for opposition all while battling to get his way.

We also get a smattering of his sense of humor and his wit. Of course, there is no hiding his dependence on drinking and smoking from breakfast to bedtime.
Gary Oldman is cast as Winston Churchill.
The facial makeup and body shaping that is applied to him makes Oldman unrecognizable.

With the body movements and the Churchill voice that is so realistic, it is very much Winston himself on the screen.

The supporting players are also well cast, especially Kristin Scott Thomas as his wife, Clementine.
Lily James is his secretary, Ben Mendelsohn is the King, Ronald Pickup plays Chamberlain and Stephen Dillane plays Halifax.

All the cast are thoroughly convincing in their roles and the film keeps us on the edge of the seat, even though we know the outcome.

Bravo to the director, Joe Wright, and the writer, Anthony McCarten.

I can see several award nominations in this fine film.
Darkest Hour is at Harkins Sedona 6 Theater