Camp Verde council: Two incumbents say yes, one still deciding, one says no
By
Bill Helm
|
BillHelm42
Originally Published: January 20, 2018 5:13 p.m.
CAMP VERDE – For Robin Whatley, it started back in 2006 when she attended her first Camp Verde Town Council meeting.
Three years later, she ran for council – and won.
Whether Whatley retains her seat on council this November almost doesn't matter to her.
"Whether or not I win, I'm committed to being involved," says Whatley, who said Wednesday that she will seek re-election to the council – and to continue serving her community as she has for nearly 10 years.
"Our council is comprised of citizens who truly want to better Camp Verde for the entire community," says Whatley, a retired school teacher from Cottonwood's American Heritage Academy.
It was in Cottonwood, back in 2009, when Whatley first realized she was going to run.
"I was in my classroom, vacuuming," Whatley says. "Had already gotten the signatures on my petition. But I wasn't sure I'd go through with it. Until I looked up at the clock. I just had enough time to get to Camp Verde, if I left my vacuum in the middle of the room."
With five minutes to spare, Whatley turned in her signatures, was elected later that year, and has been on council ever since.
Before she ran for council, Whatley says she never gave public office much thought. At least not the thought of being in front of everyone.
"I attended meetings religiously, became familiar with the workings of council and the concerns they go through," Whatley says. "When a seat opened up on council, I actively searched for a candidate, I had no intention of running for council. When I couldn't find anyone interested, I decided it was time to run."
Now that she's been on council almost a decade, Whatley says she's found her niche.
"I'm a regular citizen of Camp Verde and I can help our town set policy to help resolve some of the concerns that Camp Verdeans have," Whatley says. "It was a good decision [to run for council]. I'm glad I did it."
Going on 20 years …
Except for a two-year break in the mid-2000s, Jackie Baker has been a Camp Verde council member since 1999.
"It's been interesting, to say the least," says Baker, a longtime Camp Verde resident.
The Baker name has been so ingrained to Camp Verde, she was one of the volunteers who helped incorporate the community back in 1986.
"We got a group together and met at the high school," Baker recalls the process that led to Camp Verde becoming a municipality. "There were really a lot of people, Sam and Dorothy Hammerstrom, Bea Richmond."
It was that "core group of volunteers" who Baker says worked on incorporation for the "rest of the year."
"We did it by gathering signatures," Baker says. "The only municipality that incorporated by getting signatures. A total volunteer effort."
Since joining council, Baker says she's proud of the Main Street project.
"It was planned and worked on to appreciate our history," Baker says. "Accomplishing that was a really good thing."
Even more proud, Baker says, is how she feels about the Town's employees.
"Some great people," Baker says. "Always been super proud of our staff."
Every two years …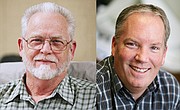 In Clarkdale and Cottonwood, the mayor is elected to a four-year term. But not in Camp Verde.
Charlie German has no more power or decision-making authority than his fellow council members, but as Camp Verde's mayor, he – as well as his opponents – must run for his seat on council every two years.
German, who has been mayor since 2013, says he plans to seek re-election.
"I also will ask to get council approval to get on the ballot to extend the mayor's position to four years," says German.
With one eye in the present and one into the future, German says he's proud of the SR 260 road widening and improvements, as well as the Northern Arizona Health Care facility on Finnie Flat Road.
"It's just tremendously exciting to see that happen," German says.
Besides the continued work on SR 260, German says he's looking forward to continued workings with Retail Strategies for additional investors, as well as exploration of continued growth east of I-17 on SR 260 and "working with the Yavapai-Apache Nation on resurfacing Old Hwy 279 to "make it a better road way for the commercial businesses already there."
Self-imposed term limits
With one four-year term about under his belt, Brad Gordon is about ready to ride off into the political sunset.
"As far as I know," Gordon says. "I don't see a compelling reason to run again."
Says Camp Verde Town Manager Russ Martin, the "collective interest of the community has been well-served" by Gordon.
"It's a very clear direction he sees," Martin says. "Someone who takes that fundamental approach to what government is there for, moving the community forward in years to come, making good decisions that will benefit for decades."
For Gordon, he says not seeking re-election is more about his appreciation of term limits. But while he has served the community, Gordon says projects such as the SR 260 road work, as well as the new library, are "big things" to him. As with Baker, Gordon says that Camp Verde employees, especially "Town management has really impressed me."
Town Manager Russ Martin "does things that are in the best interests of the town," Gordon says. "He's fiscally responsible."
And Finance Director Mike Showers, Gordon says, is "one guy who doesn't get the accolades he deserves."
"We're moving forward, and I think the town will continue to move forward," Gordon says. "Councils before me have been fiscally responsible, and they continue to do so."
-- Follow Bill Helm on Twitter @BillHelm42
More like this story
SUBMIT FEEDBACK
Click Below to: