Grass roots effort may go petition route on consolidation
By
Bill Helm
|
BillHelm42
Originally Published: January 23, 2018 2:15 p.m.
COTTONWOOD – About a year ago, Cottonwood resident and former Mingus Union board member Andy Groseta first told the Cottonwood-Oak Creek and Mingus Union school boards that the two districts should consider merging into one as a way of saving money that would ultimately go into the classrooms.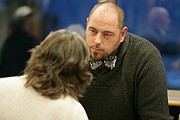 After discussing the pros and cons of a two-district merger, members of the two boards eventually decided to assemble a fact-finding committee made up of school board members, teachers from the two districts, as well as community members at large.
In December, after two committee meetings, the Cottonwood-Oak Creek school board officially said it supported Groseta's point of view, and advised Yavapai County Schools Superintendent Tim Carter of its collective support.
But Mingus Union has not offered its support to a merger.
Moving forward
With a few meetings under its collective belt, the committee isn't any closer to delivering facts, and even further away from agreeing how to proceed.
One side, Cottonwood-Oak Creek, says by pushing the question to a public vote that Yavapai County Schools Superintendent Tim Carter would then be legally charged with collecting the information the voters need to decide.
According to one of the committee members – who is also a Mingus Union teacher – it's a "bit of an oversimplification to state that sending this to a vote is asking the public its opinion."
"I think that voting to possibly eliminate our school district is something that should be done extremely carefully after examining all of the relevant information," committee member Stephen Renard said following a recent meeting.
As committee members have passionately shared their opinions about a possible merger, one question is key: will the public have an opportunity to tell the districts what it collectively wants?
'Petition alternative'
Following the committee's Jan. 9 meeting, Groseta said that if the Mingus Union's board is not going to support a merger and move the discussion to the voters, the "petition alternative seems to be more likely."
Groseta said that his community group has "had discussion" regarding soliciting signatures on petitions to take consolidation to a vote.
"We know that time is of the essence," Groseta said. "Based on what has transpired with the joint Advisory Committee meetings so far, most of us are not optimistic that they will accomplish their objectives and goals."
The next meeting of the Advisory Committee for Consolidation is scheduled for 4 p.m. Thursday at the Cottonwood Public Safety Building multi-purpose rooms A & B, located at 199 S. 6th St.
Proposed agenda items for Thursday's meeting include:
Review of committee member Phil Terbell's analysis
Discussion of Sodexo contract
Probable attorney fees for a newly-formed district
ADM (Average Daily Membership) model for consolidated district
Benefits to community and its students with consolidation
Consolidation and Arizona teacher shortage
The absence of Clarkdale in a newly formed district: what is lost and what is gained
Ideas to address the disparities in staff compensation if consolidation should move forward
How funding and taxation would change with consolidation and realignment of boundaries
This meeting is open to the public. Call (928) 634-0580 for more information.
-- Follow Bill Helm on Twitter @BillHelm42
More like this story
SUBMIT FEEDBACK
Click Below to: