Mingus boys soccer bests Flagstaff in season finale
Marauders just miss out on postseason despite upset win

Originally Published: January 25, 2018 1:57 p.m.
Mingus Union boys soccer just missed out on the postseason but they finished the season as winners.
The Marauders (6-5-1, 4-2 Grand Canyon) beat No. 17 Flagstaff 2-1 on Tuesday night at home.
"I've been doing this for five years now and I've never walked off the field and felt like Mingus didn't give 100 percent and we did it again (Tuesday) night," said Mingus head coach Calvin Behlow. "I mean game after game that we came out and played, we knew we were down personnel and we still just worked hard."
The Marauders went up 2-0 in the first half and held on to take the must win game on senior night.
"It was just crazy," said Mingus senior midfielder/forward Eric Samano. "I don't how else something like this would feel, it's really great having a senior night and winning it and for having the possibility to go to state, it's incredible."
The No. 26 Marauders' win did not move them into the top 24 and into the postseason though. Flagstaff and No. 12 Mohave made it into the play-in games for the state tournament, with No. 25 Prescott also just missing out.
The Marauders did almost chase down a playoff spot winning their last two, three of their last four and four of their last six. They started the season 2-3-1.
Those 2018 wins came despite a rash of injuries for the Marauders.
"Lee Williams, I think they were a better team, Prescott, I think they were a better team, Coco played us better than we played and then here's Flag and we just find a way to get two goals and a win," Behlow said. "So I couldn't be happier for the kids cuz we could've given up six games to go or five games to go or seven games to go and we never did and we just kept playing."
Against Flagstaff, junior forward Bradley Howard scored the first goal in the 25th minute.
"I think we all came in positive, I think we all thought deep down that we were gonna win," Samano said. "It was definitely a tough game, I'm really glad we were able to pull it off (laughs)."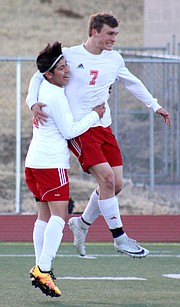 Then about two minutes later, Howard forced an own goal when he crossed it from the left side of the six-yard box and an Eagle kicked it into the net.
The game winner came after Behlow yelled to the Marauders to go extra hard in the next two minutes.
"I just told everybody 'two minutes, let's attack,' because you've just had that emotional let down after two minutes and you also have the emotional rise after you score for two minutes and you usually give up a goal because you're like 'aw, that relief' and I told them for two minutes, 'let's press and here we are 40 seconds later we get another goal,'" Behlow said.
The game-winning goal also came after assistant coach Cade Densmore noticed that the Eagles had subbed out an outside back and they thought the sub made them vulnerable.
"We told Bradley just to take it until he gets stopped and he got all the way down and I always tell my guys 'if you don't have an angle, amazing things happen when everybody is running toward the goal' and that's exactly what happened," Behlow said. "I mean play popcorn and throw that thing in there and see what happens. There's nothing that defender can do except let it go, if he hits it then it's a goal, if he lets it go then we actually had a guy on the back post I think that was ready to receive that."
The Eagles intercepted a goal kick and scored in the 71st minute.
Behlow said he was actually happy Flagstaff scored because it refocused the Marauders who had started to play not to lose.
Samano said the senior Marauders are all pretty close friends.
It was an emotional night for Behlow as he had coached Cristian Sandoval, his nephew JuJu Ontiveros and his son Ezekiel Behlow since they were U-5. Although Ezekiel Behlow suffered a season ending injury in early December, he wore his uniform underneath his sweatshirt and pants.
"I got teary eyed when Juju and Ezekiel, my nephew and my son are walking down the middle of the field for the last time," Behlow said. "I look at it and all I've done for the last 12 years is coach those two guys, whether it's AYSO, whether it's tournament ball, whether it's high school soccer, that's all I've done for the last 12 years, so there's something special there and I thanked them for that I mean without them, I don't know that I'd do it, it was truly for them, so that's the good part about it."
SUBMIT FEEDBACK
Click Below to: