Mingus Union wrestling enjoys 'best tournament' of the season
Originally Published: January 25, 2018 1:41 p.m.
Mingus Union wrestling closed out the regular season on a high note last week.
The Marauders finished fourth as a team at the Sand Devil Classic at Page on Saturday. Seven Marauders placed at the 26-team tournament that featured teams from Colorado and Utah too.
"It was our best tournament team wise that we've had all year," said Mingus head coach Klint McKean. "We finished fourth, two Utah teams and Page finished ahead of us, so we were the second best Arizona team."
Senior Lucas Svoboda finished first in the 145-pound class.
"I was proud of our team, I really was," Svoboda said. "At the end of the first day we were third for team scores and I was excited and then the second day we ended up placing fourth and it was the best we've done in a while, so I was really proud of our team."
Svoboda, who finished second at State last year, said he was happy with his performance but that he could do better. He said he's improved since last year.
"I was happy, I took first, I probably could have wrestled a little bit better and harder myself but I was still happy with my performance," Svoboda said. "I did a lot of new moves that I've been working on in practice."
Mingus Union's 113 pounder Braden Arnold placed for the first time, taking fourth, as did Nick Lodico at 126 pounds.
"Nick Lodico really turned a corner, he had not only his best matches of the year, but his overall confidence, his demeanor," McKean said.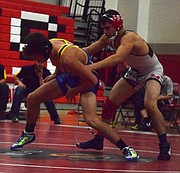 "This tournament he wrestled better than he has all year and really turned a corner, all the coaches saw it, he felt it and I'm really excited for the sectional tournament."
Michael Thurman returned to action, his first since 2017, to take second in the 132. He injured his knee, which still troubled him in Page but he still took second.
McKean said he they're hoping with a two week break before Sectionals that he'll be better.
"He's not 100 percent yet and he tweaked his knee during his second match and he grinded it out for three more matches but it's still nagging him," McKean said.
Trent Miller (138) and Nick Doerksen (152) finished second and at fifth, Ryan Griffin (220) was the other Marauder placer.
"A lot of us had different mindsets going into the tournament, like we felt more confident as a team, we wrestled harder than we have all year," Svoboda said.
Svoboda, who is in his second year at Mingus Union, said this year's team compares favorably to last year's.
"I definitely think we're going to be taking more at Sectionals this year," Svoboda said. "Placing at that tournament is definitely going to roll over to Sectionals."
Up next for the Marauders is the Division III Section IV tournament on Sat., Feb. 3, at Payson.
McKean said although the Marauders finished the regular season on a high, they welcome the two-week break.
"They need it mentally, they need it physically but we did start on Monday trying to get them mentally prepared and trying to keep them motivated, trying to keep them ready to fight and be hungry," McKean said.
More like this story
SUBMIT FEEDBACK
Click Below to: