Beaver Creek Trails Coalition to hold first 'second Saturday' hike of year
By
Bill Helm
|
BillHelm42
Originally Published: January 30, 2018 1:38 p.m.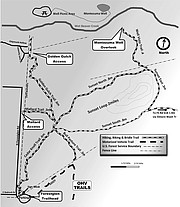 CAMP VERDE – When the Beaver Creek Trails Coalition isn't constructing, maintaining or thinking up new ways to improve the seven trails that comprise the Wikiup Mesa Trail System, what do they do?
They take a hike.
At 10 a.m. Feb. 10, the Beaver Creek Trails Coalition – and anyone who would like to join them – will meet at the Forestglen Trailhead to hike two trails – the Cedar Knoll and the Golden Gulch trails.
Says Kenn Trout, vice president of the Coalition's board of directors, the two-trailer will be the first of a few hikes scheduled for the second Saturday of each month.
"Though we may not go all the way on the Golden Gulch Trail," Trout says.
Though Cedar Knoll is considered easy by hiking standards, Golden Gulch is more of a "moderate" hike, Trout says.
Quite a network of trails
Says Trout, there's "quite a network of informal trails out there."
He's right. The Coalition has worked hard the past year to prepare the trails for public consumption, says Coalition President Stan Mish.
Volunteers are encouraged to bring food, water, appropriate clothing and appropriate shoes, as well as sunscreen, Trout says.
Speaking of sunscreen, Trout says that after April, the coalition will postpone its monthly hikes until fall – because of the heat.
"We take summers off," Trout says. "And we'll start again in either September or October."
The Forestglen Trailhead is located off I-17 at the McGuireville exit (293).
The Forestglen Trailhead is located at the intersection of E. Redrock Dr. and Forestglen Road.
For more information, contact Stan Mish with the Beaver Creek Trails Coalition at 928-606-2925 or email stanmish@beavercreektrails.org.
-- Follow Bill Helm on Twitter @BillHelm42
More like this story
SUBMIT FEEDBACK
Click Below to: