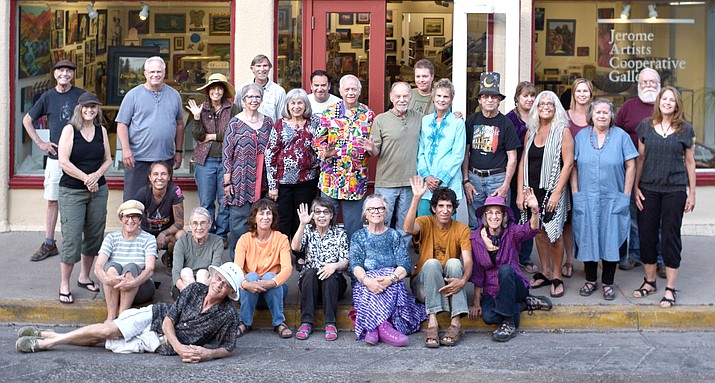 ---
---
If You Go ....
• What: 22nd Annual Summer Membership Show, entitled, "Then & Now"
• When: Jerome's First Saturday Art Walk reception for the artists, July 7 from 5-8 p.m. Open Daily, 10-6
• Where: Jerome Artists' Cooperative Gallery, 502 Main St, Jerome
• Why: A celebration of how artists' work changes over time.
• More Info: email info@jeromecoop.com. of visit the website at www.jeromecoop.com.
The Jerome Artists' Cooperative Gallery presents their 22nd annual Summer Membership show entitled, "Then and Now: a celebration of how artists' work changes over time" from July 7-July 31 at the Jerome Artists' Cooperative Gallery, located on the ground floor of the historic Hotel Jerome.
It is said that the only constant is change. In "Then and Now," gallery members consider how they and their work has changed over time.
On a special wall, "Family Portraits" are displayed as a series of group photos taken over the years of the gallery's membership. Within the featured artist room, members' work is hung in pairs with a sampling of works that were done some time ago alongside works that are more recent. Comments from the artists about how or why their work has changed sheds light on their ongoing creative process.
Chris Ryback, known for her molded concrete garden leaves and wall pieces has taken her concrete art to the next level by creating an assemblage of her concrete leaves until a face emerges.
Ceramicist V. Norton points out how her interest in working both large and small has evolved over the years. An earlier work, "White Crackle," measures 14 inches tall as compared to her current series of miniature "Spirit" masks, which are about 7 inches in height. In addition to the size variations, V. Norton chose, "White Crackle" to represent her "Then" piece because it was the means she used to explore a new glaze technique some years ago.
"I used a low fire glaze at the time," Norton recalls, "and as I read the directions, I asked myself, 'I wonder what would happen if I fired this differently?' And so, I did," she notes.

The result became a technique she began using from then on." Another example of how V. Norton's work has evolved over the years is her use of horse hair in her work. Previously, V. Norton used horse hair to create a visual/textural element on her pottery. Now, her use of horse hair has expanded to become a decorative element within her miniature spirit masks series. V. Norton likes this approach as it brings out the whimsical qualities of her spirit masks.
Joy Herhold, the Co-op's newest member, realized that over the 49-plus years she has been creating art, the thread of continuity in her work is design and meaning.
"When I was 16 years old, I carved a 6" x 60" wood relief panel, which I call, 'No One Goes to Heaven Alone.' My carving represents a hope of all people helping each other." Her desire to help humanity by seeing the best in everything has been her life-long approach to everyday living. Compositionally, Joy noticed that most of her artwork has been composed using a diagonal format. Her most recent work, "Hotel Jerome," is no exception. The view of the hairpin turn in Jerome's Main Street is depicted in this new work as a loose, fun landscape done on paper using a sewing machine's satin stitches as she would use a paintbrush. The view from inside the gallery looking out was the inspiration for yet another effective use of her "dynamic diagonal" composition. She mentions that this is how she perceives the Jerome Co-op: as a fun place to visit, meet artists, and be inspired by all kinds of artwork.
Visitors will be inspired, too, as they peruse the diverse collection of works displayed in the members' summer show, "Then and Now." There will be a reception for the artists on Jerome's First Saturday Art Walk on July 7 from 5-8 p.m. at the Jerome Artists' Cooperative Gallery. Refreshments will be served. The show runs thru July 31.
Jerome Artists' Cooperative Gallery is open daily from 10 a.m. to 6 p.m. It is located at 502 Main Street. Call 928-639-4276 or email info@jeromecoop.com. Visit www.jeromecoop.com.
Jerome Art Walk to celebrate Fourth of July weekend
First Saturday Jerome Art Walk celebrates the Fourth of July weekend in artistic style as galleries and studios open the doors for an evening of summertime enchantment on July 7th.
From the Anderson-Mandette Gallery and Karon Leigh Studio at the Old Jerome High School to Made in Jerome Pottery at the other end of town, delightful surprises abound in this artist colony high on Cleopatra Hill.
Restaurants will be offering delicious fare and the charming hotels and bed and breakfasts will be welcoming visitors on this holiday weekend. Cool evenings at a mile high beckons guests from the steamy Arizona valleys and lovely art is as much a draw as the respite from the heat.
The town shuttle provides free transportation all evening so be prepared to park and let someone else do the driving, if you choose not to walk. With 26 galleries and studios all open in this magical town, one of a kind art is everywhere.
Festivities on July 7th beginning at 5 p.m. with doors open until at least 8 p.m.  
For more information visit www.jeromeartwalk.com or call Donna @(928) 301-3004. A sampling of what is in store for the art lover follows.
Please join Zen Mountain Gallery for July Art Walk when Jerome artist Steve Gray will be demonstrating his Graphing Pendulum.
This floor-to-ceiling pendulum is Steve's unique creation which incorporates multiple pendulum movements into one larger construction and then is equipped to graph the movements of the pendulums creating mesmerizing works of art.
Steve describes his pendulum saying, "when the pendulums are set into motion there is a curiosity of what is going to come. Simple pendulums have a predictable path, but when you add two or three together the paths become unpredictable and the device seems to have a mind of its own. When the pen drops to the paper and the first lines begin to form, I find that I can have feelings of frustration or excitement that can morph into entirely different emotions as the  pendulum's swing slows down and a drawing appears. My intention is to create a way to graph frequencies of two or more pendulums oscillating in time and space to create a visual harmony." Please join Zen Mountain Gallery for a glass of wine and the opportunity to experience this unique pendulum. 
The New State Motor Company will have a variety of clay sculptures by local artist Janie Layers.  Her Jerome Bible Art Museum will be featuring a high-fired, hand-formed bust titled: And the word of the Lord came to Ezekiel.
On the evening of the July 7th Jerome Art Walk, Pura Vida Gallery will showcase new work from fiber artist Debra Street.  Debra's hand-painted silk ponchos and "sconchos" are the perfect cover-up for summer evenings, adding a splash of color to any wardrobe. 
Debra describes her work as the perfect piece to go from the beach to the ballroom.  Join Pura Vida for chocolates and champagne during the evening of the Art Walk and enjoy these beautiful new pieces. 
 Threads On Main will be showcasing new styles of tops and pants by Lior Paris during the July 7th Jerome Art Walk.  Stylish summer v-neck and short sleeve tops made of a cotton blend are available in royal blue, white, and gray.  These tops coordinate beautifully with Lior Paris Crop Pants and Ankle Pants in the same colors.  Let Threads On Main dress you for a stylish summer at our champagne and chocolate open house during the evening of the Art Walk.
Yester Day's Fine Art Gallery is featuring for Jerome's July Art Walk a creative soul whose work has a very organic steampunk vibe. Robert Brinkhurst, a very invested artist based out of Prescott, Arizona, enjoys using recycled materials to the visual benefit of both himself and his viewers. Interested in art since his youth, he now excels with vintage mixed media.
Most of his work consists of repurposed pieces like clocks, keys, plaster, paint, wires, and wood.
Often, Brinkhurst's resulting images are delicate, metallic birds, set in distressed backgrounds that are saturated in deep blues or purples. 
Come weep for beauty as do the on looking canaries of the mines (which canaries are still singing for a while, at least) at Yester Day's, located under the lavender flags at 509 Main Street in Jerome's business district.
Expressionist artist Karon Leigh creates a place of joy with a new series of floral paintings. Her use of bold color and a raw emotion, invite the viewer to connect with art through a visual experience. Art can connect people through a visual story, documenting our lives, history, people and places.
A passion for landscape and an appreciation of place and community inspires the work of Arizona artist, Karon Leigh. Her paintings remind us of the beauty of our environment, encouraging conservation and stewardship.
A connection to community drives her commitment to give back through her art.
A percentage of all art sold is donated to Friends of the Verde River. Visit Karon during the Jerome Art Walk, Saturday, July 7th and each first Saturday of the month at the Jerome Art Center in the Old Jerome High School.