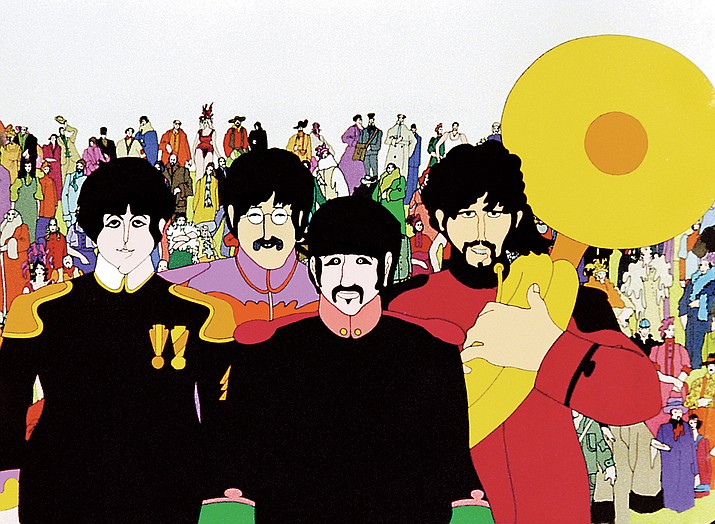 ---
---
Attention Beatles fans: "Yellow Submarine" is turning 50. The ground-breaking animation and classic tunes return to theaters for a special anniversary celebration — restored in stunning high resolution.
The Sedona International Film Festival is joining hundreds of theaters around the world for the 50th Anniversary screenings of The Beatles' "Yellow Submarine" on Thursday, July 12. There will be two shows at 4 and 7 p.m. at the festival's Mary D. Fisher Theatre.
Theater-goers and film lovers have their choice on how to experience the film. The 4 p.m. screening will be the normal film viewing. For those looking for a colorful, fun, adventurous experience, the 7 p.m. screening of "Yellow Submarine" will be a sing-along event with the lyrics popping up on screen to sing along with all the iconic Beatles' hits. Costumes are welcome and encouraged to fully get into the spirit of the event. And photo opportunities await at the theater, too.
"Yellow Submarine" — based upon a song by John Lennon and Paul McCartney — is a fantastic tale brimming with peace, love and hope.
An icon of psychedelic pop culture, "Yellow Submarine" is a colorful musical spectacle and an exhilaratingly joyful cinematic experience for all ages — filled with visual invention, optical illusions, word play, and glorious, glorious music.

An unmissable cinema event, this momentous big-screen revival will give generations of audiences the golden opportunity to revisit Pepperland for the 50th anniversary of the film's original release.
The visionary feature film can now be experienced in glorious surround sound with the groundbreaking animation presented in stunningly-remastered 4K. Looking and sounding better than ever before, join John, Paul, George and Ringo on the technicolor adventure of a lifetime.
Illustrated with mind-bending moving images, "Yellow Submarine" tells the story of how The Beatles battle the music-hating Blue Meanies armed only with the power of love.
An exuberant fusion of music, film and art, "Yellow Submarine" is a landmark cinematic experience that is as fun and vibrant as it was in 1968.
The 50th Anniversary screenings of "Yellow Submarine" will be shown at the Mary D. Fisher Theatre on one day only: Thursday, July 12 at 4 p.m. (regular film screening) and 7 p.m. (sing-along event). Tickets are $12 general admission, or $9 for Film Festival members. Tickets are available in advance at the Sedona International Film Festival office or by calling 282-1177. Both the theater and film festival office are located at 2030 W. Hwy. 89A, in West Sedona. For more information, visit: www.SedonaFilmFestival.com.