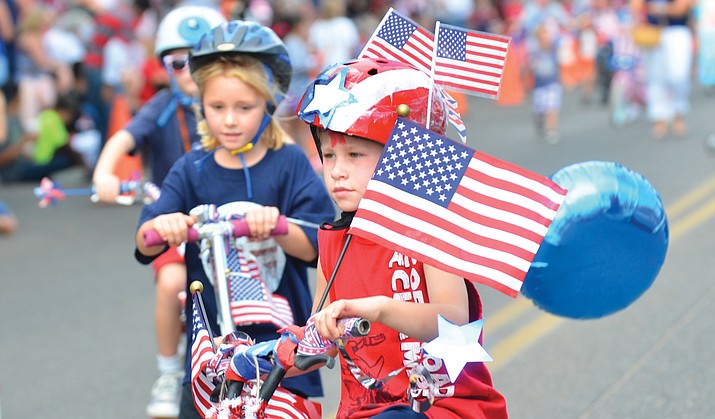 Originally Published: July 3, 2018 9:14 a.m.
Cottonwood fireworks still on despite fire risks
Independence Day fireworks are still on in Cottonwood as other cities have canceled their 2018 shows because of fire risks.
Flagstaff, Prescott, Cave Creek and Williams have canceled Fourth of July fireworks.
Cottonwood's "Fantastic Family Fourth" at Cottonwood Kids Park is scheduled to proceed is plan, according to Cottonwood Fire & Medical Department.
They said the fireworks display is one of the safest in Arizona.
"We have taken precautions to ensure that fire safety is maintained during the show," according to a Cottonwood Fire media release. "These precautions include minimizing vegetation in the fireworks shooting area and 'fallout' zone, limiting the size of the fireworks to minimize the 'fallout zone and ensuring there are adequate fire trucks and fire personnel on scene to ensure maximum fire safety."
Even with all the added precautions, Cottonwood Fire said the decision to go on with the fireworks show is dependent on weather conditions.
"Wind speed and direction are taken into account and the decision to shoot fireworks can be delayed or suspended at any time prior to or even after the show begins," the release states. "The Cottonwood Fire & Medical Department works closely with Fireworks Production personnel to ensure a safe fireworks show can be enjoyed by all."
It is also important to note that the use of fireworks in Cottonwood is prohibited by anyone other than a licensed professional permitted by Cottonwood Fire.
For more information, call 928-634-2741
--Kelcie Grega
Independence Day falls on a Wednesday this year and Uncle Sam has some red, white and blue fun planned in the Verde Valley. From parades to picnics to fireworks and even waterslides, you won't want to miss this day of celebrations.
Here are some Independence Day events happening around the Verde Valley.
Clarkdale
Start the day early with old-fashioned Fourth of July festivities kicking off at 7 a.m. at the Clarkdale Town Park, 1001 Main Street. Events conclude at 11 a.m.
The annual Kids' Parade will start at 9 a.m. from the Clarkdale-Jerome School, down Main Street past Town Park and finish at Town Hall. Prizes will be issued for: Best Decorated Pet, Best Decorated Bicycle, Best Decorated Wagon, Most Patriotic, and Most Original.

Those interested in participating must register starting at 8:15 a.m. at the Clarkdale-Jerome School. There is no pre-registration prior to the day of the event nor a cost to enter. Parade rules and registration forms are available online at: http://www.clarkdale.az.gov. Winners will be announced at the Town Park at 10:30 a.m.

For more information on Clarkdale's Old-Fashioned 4th of July, contact Clarkdale Community Services at 928-639-2460, email community.services@clarkdale.az.gov or visit the town's website: http://www.clarkdale.az.gov
Cottonwood
Cottonwood Parks & Recreation will host its 19th annual Independence Day Extravaganza with pre-show activities beginning at 4 p.m. Games, inflatable rides, waterslides and watermelon eating contests will all be found at the Cottonwood Kids Park on 12th Street, adjacent to the Verde Valley Fairgrounds.
Free food will be provided courtesy of Fry's Food & Drug and prepared by the Knights of Columbus from 4-6 p.m.
Wristbands will be available for purchase on-site for the kids' games. Soft drinks, glow necklaces and other items will also be available for purchase during the event through the Cottonwood Youth Advisory Commission.
The countdown to Northern Arizona's fireworks display begins at 7:45 p.m. with music, presentations, and a patriotic salute by the VFW Color Guard. At 8:45 p.m., grab a blanket or lawn chair and settle in for 35 minutes of lights.
Admission is free. Fair parking is $1 and benefits a local non-profit youth organization.

This event is co-sponsored by Fry's Food & Drug, Cottonwood Chamber of Commerce, Taylor Waste, Verde Valley Fair Association, Verde/Clarkdale Kiwanis, Knights of Columbus, Jennifer Griffin State Farm, Nice Jons, and Minerals Research.
Veterans of Foreign Affairs Post 7400 will also be hosting its own Fourth of July Event. A flag raising will take place at 3 p.m. and a barbecue will take place at 4 p.m.
The event is an open house to all veterans and immediate families.
The event will be held at 705 E. Aspen Street.
Jerome
Jerome community members will be assembling outside the firehouse at 9:30 for a parade around the town. The parade begins at 10 a.m. and will feature classic vehicles and the Jerome Ukulele Orchestra.
Beaver Creek
The Beaver Creek Parade will leave the Sycamore Park area in Lake Montezuma at 9 a.m. and travel south on Montezuma Avenue past the Village Square. This year, the grand marshal is Verna Shafer and junior marshal is Abigail Jensen.
Parade entrants should sign up at the Montezuma Rimrock Fire Station or call 928-567-9401. The festivities and pancake breakfast will be in Rollins Park at the Lake Montezuma Village Square.
The BC Kiwanis Duck Race will be on Wet Beaver Creek by Sycamore Park. For inquiries about display tables, entertainment and activities please call Carol Keeton, Kiwanis Past President, at 928-606-4050.
Sedona
The Sedona Parks and Recreation Department is hosting a free 4th of July Wet Fest 2018, noon to 4 p.m. at the Sedona Community Pool, 570 Posse Ground Rd.

This water event takes place both inside the Sedona Community Pool enclosure as well as the surrounding outside area. There will be inflatable water slides in addition to the Community Pool slide. We'll have music and lunch items will be for sale. Bring a chair and join us for a family-friendly, patriotic day.
Special thanks to APS for their support for the event, and thanks to Summit Life for managing the inflatable area outside of the pool.
For more details and information on other Parks and Rec events visit sedonaaz.gov/parks.
Camp Verde
Cliff Castle Casino will host its own Independence Day with food, fireworks and fun starting at 4 p.m. at the Stargazer Pavilion. A free picnic with chips and hot dogs will be available as well as activities and inflatables for the kids.
Fireworks, if weather permits, will begin at 9:15 p.m.