Verde Valley Little League wins majors baseball District 10 all-star title with unbeaten run
Originally Published: July 5, 2018 2:06 p.m.
Verde Valley Little League won the District 10 Baseball All-Stars Majors championship last week in dramatic fashion.
VVLL went undefeated in 10-11-12 tournament at Cureton Park in Williams. Verde Valley came back to beat Prescott Valley 10-9 in the first championship game on Saturday.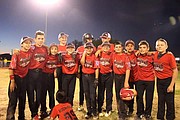 "Fantastic, unbelievable how it all went down, the way we came back from behind in the bottom of the last inning to as they put it 'walk it off,'" said head coach Carlos Godina. "They never gave up, they were very loose in the dug out and they stayed confident in their hitting. They believe they can hit, they all know they can hit but I think with this group we just gotta keep them loose but focused at the same time and have them understand that 'hey, just trust the defense and trust your hitting' and they did that."
Had Verde Valley lost the game, a second they would have played a winner take all championship game on Saturday night against Prescott Valley.
VVLL opened the double elimination tournament with a 6-5 win over Prescott Valley on June 26. Then in their second game in June 28, they beat Chino Valley 6-0.
"It was surreal just because there was a lot of good teams out there, Prescott, Prescott Valley, Chino Valley," Godina said about going undefeated. "We're a small town (laughs)."
Verde Valley moves on to the state tournament in Scottsdale starting on July 17. They will open up against District 3 (east Phoenix).
The state tournament starts off with two seven-team pools. The top two teams in each pool advance to the double elimination portion of the tournament.
The other teams in their pool are District 14 (Gilbert), District 11 (east central Arizona), District 7 (Mesa and Apache Junction), District 5 (north Tucson) and District 6 (Scottsdale and Fountain Hills).
"I call it the group of death (laughs), the one we're in," Godina said.
Verde Valley's minors all-star baseball team also went undefeated in their district tournament.
"It's pretty incredible," Godina said. "I'm part of the league board and I've always believed in bringing younger kids up to play at the higher level. I've always advocated that and we started that last year and you can totally tell it's paid off."
More like this story
SUBMIT FEEDBACK
Click Below to: