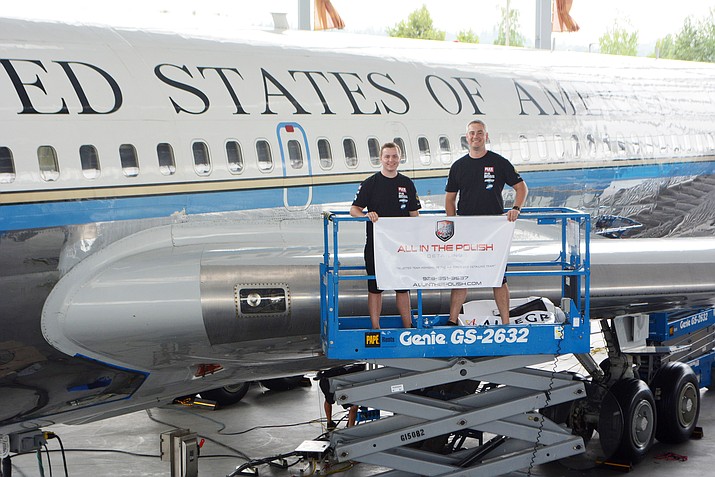 Originally Published: July 12, 2018 2:16 p.m.
CAMP VERDE – A year ago, Camp Verde residents Rob Fafrowicz and Rob Zubek were commissioned to help maintain and preserve the original presidential jet Air Force One, now at home at Seattle's Museum of Flight.
Fafrowicz and Zubek, owners of All in the Polish Detailing in Camp Verde, have again been selected to the 15th Anniversary Air Force One Detailing Team.
Chosen by master detailer Renny Doyle and his group Detailing Success, Fafrowicz and Zubek will join 63 other professional detailers from around the country as they detail Air Force One and other of the museum's decommissioned planes, July 15-22.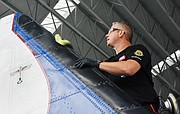 Said Fafrowicz, being invited back-to-back years on such a "prestigious project" makes him "feel proud of the work that Rob and I did last year."
A year ago, Fafrowicz and Zubek were able to implement their "skill and knowledge into the preservation of several historic aircraft under the supervision of several team leaders," Fafrowicz said.
This year, the pair will "most likely be polishing more brightwork on the aircraft than we did last year," Zubek said. "It's a complicated process, but I am definitely interested in learning how to achieve a beautiful mirror-like shine on the airplanes."
Zubek also said that the "team leaders will dictate what our responsibilities will be, so we will find out what is on our plate next week."
According to a press release, the detailing team this year will continue its annual cleaning and preservation of the retired presidential plane, as well as help preserve Midnight Express, a Boeing B-52G Stratofortress Bomber that is the museum's newest acquisition.
The detailers are also expected to polish the B-29 Super Fortress, a WWII bomber the team began restoring in 2011; cleaning and polishing the first-ever Boeing Jumbo Jet 747; polishing the supersonic Concorde Alpha Golf, which they have been working on since 2014; and numerous other aircrafts on exhibit at the museum.
For Fafrowicz, the more aircrafts that they polish, the more experience they gain – and the better service they can provide their customers.
"With every minute spent on the machines, we gain even more attention to detail and a better understanding of the science behind different finishes, polishing and compounding pad combinations, and products," Fafrowicz said. "We can then bring that experience back with us and implement it on the job daily."
Fafrowicz said that he and Zubek enjoy being on projects such as Air Force One "because we love to learn more and build our knowledge base."