Undefeated Verde Valley Little League baseball majors all-stars go to Scottsdale for state tourney
Originally Published: July 12, 2018 2:11 p.m.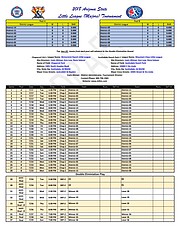 Verde Valley Little League's 10-11-12 baseball all-stars will look to continue their winning ways.
VVLL will compete in the Arizona state tournament starting on July 17. Verde Valley won the District 10 championship, going 3-0 at the tournament in Williams.
The state tournament will be at Chaparral Park and Scottsdale Ranch Park in Scottsdale.
The tournament is composed of two stages: two pools of seven teams playing round robin, followed by a double elimination round featuring the top two teams from each pool.
Verde Valley open up against District 3 (east Phoenix).
The other teams in their pool are District 14 (Gilbert), District 11 (east central Arizona), District 7 (Mesa and Apache Junction), District 5 (north Tucson) and District 6 (Scottsdale and Fountain Hills).
The winner of the state tournament advances to the region tournament starting on August 5. Arizona will face Hawaii to open the tournament, which will be in San Bernardino, Calif.
More like this story
SUBMIT FEEDBACK
Click Below to: