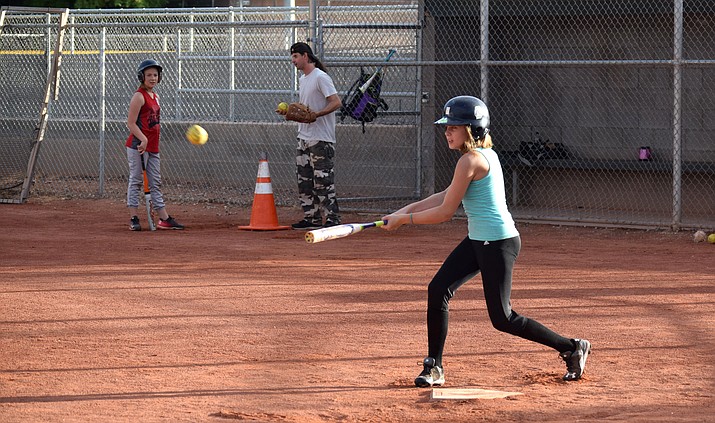 Originally Published: July 12, 2018 2:44 p.m.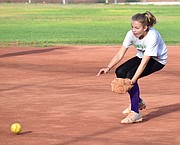 With a deeper pitcher staff and speed, Verde Valley Little League 9-10-11 softball all-stars head to the state tournament.
Verde Valley opens the tournament on Friday at 7:30 p.m. at Festival Park in Avondale.
"They're looking good, they've been practicing real hard and working really hard here for the last couple of weeks and everybody's coming together," Verde Valley head coach Zack Calandra said. "We're working on all fundamentals and parts of the game and we got a great group of girls again like we did last year and I think we're going to have a really good team."
Calandra led the Verde Valley softball minors all-stars last year. Although they relied on one pitcher, Alice Kinsey, they went 2-2 at the district tournament. This season they tried to develop pitching depth by having others throw during the regular season.
"We've got a lot of speed on this team and we've got some depth," Calandra said. "A lot of the girls are back from last year's team, so that will help us out, they have a little bit of experience from playing last year and we've got some pitching this year. Last year we went in with not a lot of pitching, last year we had one pitcher that we relied on and this year maybe three or four, so that will help a lot."
This season there wasn't a district tournament and Verde Valley advanced straight to the state tournament.
"I don't think it helped at all," Calandra said. "I would have liked to played in the tournament before we went to the state tournament, we know when we get down to state that these are going to be obviously some of the best teams in the state and it would have been nice to have a tournament to play in and get the girls out there and play a little bit. Fortunately a lot of these girls are from one team that did get to go play in the Tournament of Champions, so they did get the taste of what it's like to get out there and play in tournament style softball."
The state tournament is double elimination and features six teams.
Verde Valley will open up against District 4 (Pinal Country) and then if they win they face District 5 (north Tucson).
The other teams are District 8 (Cochise and Santa Cruz counties), District 14 (Gilbert) and District 1 (Northern Arizona).
"We really don't know much about it," Calandra said. "Our first game is against a team from the Casa Grande region, so somebody from down there, we don't know who it is yet and we'll play on Friday and if we win on Friday then we'll play again on Saturday and if we lose on Friday we'll play again on
Sunday. No matter what we play on Friday and Sunday, so everybody come down and cheer us on, in Avondale."
Verde Valley had three teams in the league at that age group in softball.
This year VVLL didn't field an 11-12 year old softball team and this year's team is 11 and under. Last year they had two softball all-star teams, with the majors team finishing second in the district and they hope to have three next year.
Calandra said they've been practicing every weekday to try an shake off the rust.
"We practice everyday, Monday through Friday, except for the holiday obviously, from 6-8 p.m.," Calandra said. "We've been practicing and we scrimmaged inner squad scrimmages, we'll go through our fundamental stuff and then we'll break up and then bring our pitchers out and then have them pitch to our hitters, that's all we can do at this point is just to try and simulate a game on our own."