Mingus football hosts alumni game
Originally Published: July 14, 2018 1:40 p.m.
Mingus Union hosted its annual alumni game on Thursday night, with the current Marauders facing off against the alums.
The alumni played the varsity, JV and against themselves in 7-on-7 games. There was also big man challenges, alumni cheerleaders and various tug of war competitions.
Photo Gallery
Mingus Union Football Alumni Game 071218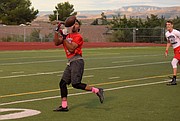 On July 12 Mingus Union hosted its annual alumni game. VVN/James Kelley
"It was very, very good, I thought it was fun," Mingus head coach Robert Ortiz said. "I'm trying to get the culture back in place where we're getting the alumni out supporting the kids and we had better turn out than I thought we would with parents, the concession stand, the help, we had a lot more alumni show up. It was one of those things that happens after work, so I thought we had a good turn out, it seems like the kids had fun, the alumni had fun and I'm pretty sure we'll be able to help fill the stands a little bit with that."
With Ortiz and head baseball coach, teacher and football assistant coach Erick Quesada being alumni and playing, it gave the current Marauders a chance to play against their coaches and talk a little trash.
Ortiz laughed, "It was fun, more just running around, messing around, playing against the kids, giving them a shot at coach, they like that kid of stuff."
More like this story
SUBMIT FEEDBACK
Click Below to: