Mingus Union football hosts youth camp this week
Originally Published: July 14, 2018 2:11 p.m.
After having gone to the camp as a youngster and then coached at it in high school, Mingus Union football head coach Robert Ortiz is bracing for his time in charge of the Mingus Marauders Youth Football Camp.
Mingus Union will host the camp on Monday through Wednesday at 5:30 p.m. to 7:30 p.m. at Bright Field on the campus of MUHS.
"Hopefully we can get as many kids out as we can, hopefully the weather holds up and we can add some things for the younger kids and hopefully generate that excitement and help out at the youth league level a bit too," Ortiz said.
The camp is for boys and girls ages five to 14. At the camp, the high school players coach the younger players.
"It's really fun," Mingus senior Kendrew Streck said. "I went to kids camp when I was little and it was a huge impact on my football career, getting to hang out with everyone you look up to at the time."
The cost of the camp is $20 and a youth t-shirt is included.
"It's gonna be really fun," Mingus senior Antoine Zabala said. "In the past years it's been a really good experience for the young kids that come out, have a good experience. It makes us closer with the community and that's what it's all about really. This kids look up to us and it's all about a great experience for the kids and they should all come, it's going to be really good this year even with a different coach."
Registration starts at 4:45 p.m. on Monday. For more information email Ortiz at rortiz@muhs.com or HDYF/Cottonwood AYF president Danica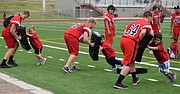 Briseno at danicabriseno@hotmail.com.
"As a kid it was good because those are the guys that you came out on Friday nights to support, so that's what I'm hoping to do, is get those kids back out here to support our guys and hopefully build that idolization between them that we can them kinda going up and get them back in the stands, back at the field and kinda oohing and aahing over what we're doing now and get them out in football in general," Ortiz said.
Zabala, the second year starting quarterback for the Marauders, said taking on the coaching role is fun.
"It's really kinda cool, you switch seats with your coaches, you get to coach little kids I mean you really get a different perspective on things, it's really kinda cool to see your family, your friends' sons, your kids come out and run around," Zabala said. "It's really enjoyable for us, we really enjoy doing it every year."
At the camp, the kids run from one station to another with smiles on their faces.
"It's really fun, because especially the younger kids, they're just really funny and if even if they don't do the drill, they'll be out running having a good time and that's what it's all about," Streck said.
The camp is a tradition from recently retired head coach Bob Young.
"Coach Young has always done a good job of connecting with the community, so to me that's just tradition, it's one of the those traditions that will live on, hopefully well beyond my time here and we want to keep that going and keep the youth league, I mean that's our feeder program, that's the only one we got, that's where it starts with, it starts with your five, six, seven, eight year olds all the way up through," Ortiz said. "So we need to start with them and keep track of them on their way up through us."
Ortiz said for the high school kids it's about paying it forward.
"For the kids to me, and that's where it starts, I believe in our first interview together I talked about paying it forward and this is really their first, second and third steps of it forward to the guys behind them," Ortiz said. "Like I said, I had older guys who paid it forward to me, I paid it forward to probably some of these young guys when I here and now it's their turn to pay it forward to our future Marauders."
SUBMIT FEEDBACK
Click Below to:
More like this story