Turning tables: Couple aims to serve fresh produce from Verde Valley Farms
Originally Published: July 14, 2018 3:45 p.m.
CORNVILLE -- A couple has opened a market on the corner of Cornville Road and Page Springs Road that aims to bring local produce from Verde Valley farms, gardens and orchards directly to area residents.
After working 25 years as a chef, Bryan Nowicky and his wife Lema said they have saved their money and have turned Bryan's "farm-to-table" dream into a reality - a market called, Casey's Corner in Cornville.
The husband-and-wife team has a one-acre plot in Cottonwood called Maggie's Farm where they grow vegetables and will stock Casey's Corner, a market with coolers and baskets of produce.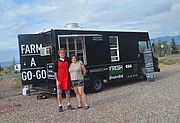 Lema said they are connected to several other Verde Valley farms, gardens and orchards that they will sell products for or trade produce with.
The couple will also have vegetable and produce from growers in Cornville who will provide vegetables, mushrooms, fruits and goat products.
Their coffee shop inside the market sells baked goods such as muffins, pastries, quiche and cookies made from the local seasonal fruits ripe in the Verde Valley.
"Right now we have so much apricot," she said. "We got apricot jam, apricot syrup, apricot pies, apricot pancakes in the truck. And likewise the zucchini. So I have zucchini bread. I have one that is gluten-free, one that is not gluten-free." And waffles.
Parked outside the restaurant is the couple's brand new food truck called "Farm-A-Go-Go," that has a full kitchen for the chef to cook up breakfast or a full menu on the road. The truck will be seen parked at other areas around the Verde Valley, available for catering and will focus on "locally sourced produce."
The couple said they will not have a set menu, because their menu is inspired by seasonal ingredients. "Everything is as local as possible," Lema said.
The food truck sandwiches, salads and vegetable quiches, such as their wild mushroom quiche made with all local ingredients, are seasonal, she continued.
The truck has a deep fryer so they have been doing tempura-fried summer baskets of zucchini, potatoes and onions. In the morning, the food truck, which is parked at Casey's Corner, serves up breakfast items such as eggs benedict, and Bryan even creates freshly-made donuts in the truck's deep fryer.
Bryan is very experienced having just worked as the culinary director of Page Springs Cellars and is a French-trained chef. He has been a chef for 25 years in Portland, Las Vegas and Arizona and won a National Presidential Award for service work with the Coalition of Compassion and Justice.
Lema has extensive experience working with CSA's and said working with other farms to bring food to local residents has so many benefits.
Obviously, there are the economic benefits of putting back into the local economy and supporting local businesses, Lema said.
"People are becoming more aware of different environmental issues," she continued. "and also, I feel like, people are trying to reconnect with food again."
"Understanding where food comes from is a huge thing," Lema said. Not having food flown or shipped in from across the country is good for a mental and physical standpoint.
"This is a husband and wife kind of project," explained Bryan. "Everything we do is farm-to-table."
The couple said they want to build "a place where locals and travelers feel welcomed to gather and meet up with friends and family… something that locals will be proud of and happy to come out and enjoy."
The Grand Opening of Casey's Corner Saturday included activities such as children's miniature pony cart rides, farm stands, honey tasting from Dry Gulch, jewelry, trunk show, their food truck and live music.
More like this story
SUBMIT FEEDBACK
Click Below to: