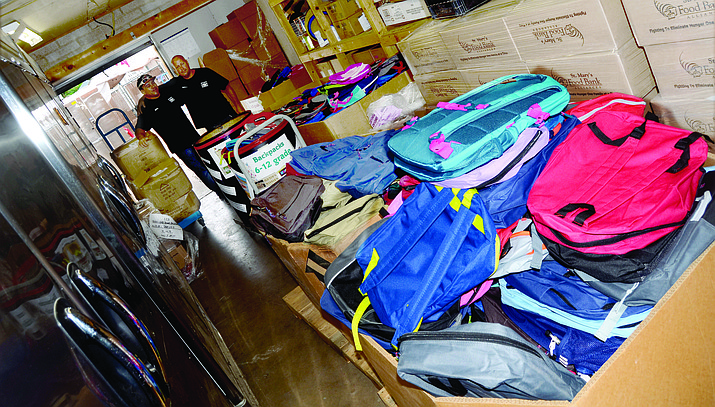 Originally Published: July 19, 2018 12:56 p.m.
CAMP VERDE – Camp Verde students go back to school on Monday, Aug. 6. But two days prior, backpacks filled with supplies will be available at Camp Verde Community Church.
Last year, more than 75 of the Camp Verde Unified School District's children received backpacks a year ago, according to Camp Verde Kiwanian Lynn Sweitzer.
"The cost of school supplies continues to rise, and we hope this will help our local families," Sweitzer said.
According to Sweitzer, backpacks are filled with "all the essential supplies that are necessary for the children in our community to start the year off right."
Backpacks will come with pencils, erasers, rulers and paper, Sweitzer said.
For the younger children, crayons will also be included in their backpacks.
For the older children, subject notebooks, binders, notebooks and glue
sticks will also be provided.
"We get lists from the schools and try to fill [the backpacks] with what is recommended by grade," Sweitzer said.
For a child to receive a free filled backpack, a parent or guardian must call 928-300-3165 by Aug. 1 to register.
If the call goes to a recording, leave a message with your name and grade of your children, the school's name, and a contact number.
Backpacks will be provided on a "first come basis," Sweitzer said. "We are hoping to fill 100 this year, but will not turn anyone away."
Anyone interested in donating money, backpacks or school supplies can drop off at Camp Verde Community Church, located at 480 First St. All monetary donations "will go to the children in the form of supplies," Sweitzer said.
The Camp Verde Community Church office is open from 9 a.m. until noon Monday through Thursday.
So far, contributions have come this year from community members, as well as American Legion Post 93 Camp Verde and the Camp Verde UPS Store, Sweitzer said.
Backpacks will be given out the morning of Saturday, August 4 at the church's pancake breakfast.
For the past five years, the event has been a partnership between the Camp Verde Community Church and the Camp Verde Kiwanis.
-- Follow Bill Helm on Twitter @BillHelm42
More like this story