NEW BUSINESS: Bombaz Grill expands food truck to restaurant in Verde Village

Originally Published: July 19, 2018 10:19 a.m.
A new restaurant has opened on Western Drive in Verde Village, just a few hundred feet off State Route 260. The Bombaz Grill has opened with a menu serving "Southwest Style Fixins."
But not much else is new about the business as the owners Alfredo Angel Garza and wife Daffna Garza, are experienced cooks and have been running the Bombaz Mobile Food Coach for months in the Verde Valley.
Their new "bricks-and-motor" location on Western Drive has been a restaurant before – the former Anvil Restaurant was a popular pizza place for residents in the area before closing after several years.
"We are a Mexican/American based restaurant with a full menu," he explained. "A collaboration of Texas, New Mexico, Arizona and some California all blended into one."
Their food truck will be run in conjunction with the restaurant for catering special events, corporate caterings, graduations, weddings and all different kinds of events.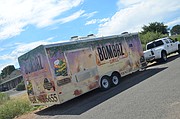 Alfredo said the couple have run the food truck with their restaurant in New Mexico for about six years and relocated to Arizona last July where they have been operating locally since December.
Now, they decided to open a brick-and-mortar restaurant and Alfredo said he is aware Bombaz is one of the few restaurants south of Cottonwood going toward Camp Verde.
Bombaz is also surrounded by the numerous homes in the Verde Village development off SR260.
Alfredo said the food truck has been very popular and the experience has fine-tuned them for the restaurant. "We had a great following from the food truck," he said.
"We have a line of burgers. We have a line of tortas. We have a line of a few Mexican options," he continued. Shrimp in citrus juice and vegan options, including a vegan burger, are on the menu. Also, Carne Asada fries, Chili Cheese Fries, Enchilada Plate, Tacos, Burritos, and Chimichangas. And there is a kids' menu.
Alfredo said they will still be doing community events with their food truck. "We focus a lot on family and community," said the father of five children who attend Cottonwood schools.
They opened on July 7 and trying to juggle opening the restaurant and running the food truck was a big challenge. He said they are leasing the building with an option to buy
They do take-out orders.
Hours are Tuesday-Thursday, 10 a.m. to 9 p.m.; Friday and Saturday, 10 a.m. to 10 p.m.; Sunday 11 a.m. to 5 p.m.
The business is located at 928 E. Western Dr., Cottonwood (100 feet off Sr260 going west) 928-963-6655.
More like this story
SUBMIT FEEDBACK
Click Below to: