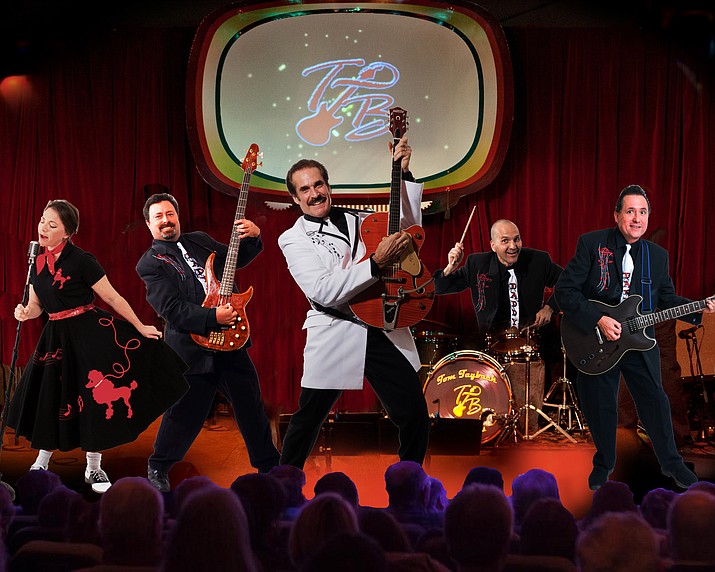 ---
---
If you're a fan of the golden oldies from the 50's & 60's, you'll love this genuinely authentic blast from the past, Friday, July 27th at the Sound Bites Showroom in Sedona. "Tom Tayback and the Daddy O's" are a true throwback, fondly recalling the good old days of Juke Boxes, 45 Records, Soda Shops and Sock Hops in the gym. Get nostalgic and leave your cares at home, because the memories of those great old days will fly unchecked as you relive a time when music refused to let you sit still.
Gino Romeo – Drummer:
Sometimes referred to by Tom Tayback as the Professor of Percussion, Gino has been with the show for over 5 years now. Growing up in New Jersey, he played in all of his school bands. As with many young musicians, his first experience with paid performances came at wedding receptions. Drumming stayed a regular part of his daily life, which included studies at the University of Arizona, where he picked up with numerous pop-rock and jazz bands, earning "Band Director" and "Most Talented" awards, all the while earning a Ph.D. in Physics… Having moved to Sedona, he maintains a Professorship at Yavapai College during the day, and plays with the Graffiti Gold Show nights…
Douglas Forero – Lead Guitar
Douglas was born in Glendale, CA and studied classical guitar at California State University Northridge. He then studied with Steve Lynch, of the band Autograph, Jamie Glazer, from the Jean-Luc Ponty band, and Jon Pisano, from the Herb Alpert and the Tijuana Brass band. Moving to Sedona in 2011, Douglas now teaches and directs music at a local ministry, as well as hold down the Daddy O Lead Guitar spot.
Brian Kirk - Bass:
Born in Georgia, Brian cut his teeth in the Atlanta music scene. He has also lived and played in San Francisco and Denver. Wherever he's been, Brian has always maintained his music roots, his true first love. This started in high school and college bands. He then went on to study Bass Performance at the Atlanta Institute of Music. You'll see that he may be a left when it comes to playing the Bass, but he's definitely in his right mind as the newest member of the Daddy O's.
Tom Tayback:
As a National Voice-Over Artist, with an acting background in Hollywood movies & TV, and as the multi-award winning anchor of 780 KAZM's morning show "The DUO" in Sedona, AZ, Tom Tayback brings seasoned presence to his performances. As a Screen Actors Guild member, Tom's acting highlights can be viewed at the Internet Movie Database site ( www.imdb.com/name/nm0851860/). From '89 to '91, he produced his own syndicated TV variety show on KTUP Channel 45 in Phoenix, while also hosting radio shows in Phoenix and Las Vegas. In '93 Tom guest starred in the premiere episode of the New Route 66 for NBC. In '94 he guest starred in one of the most replayed episodes of Rescue 911, hosted by William Shatner for CBS. 1994 found him starring as a body-snatching alien for New Line Cinema Productions in the motion picture sequel "Hidden II - The Spawning". In '95, he starred as Homicide Detective Sgt. Gold in "Undercover" (with Meg Foster) for Axis Films International. And, in '96 Tom starred in his favorite role as the new "Grizzly Adams" in "Treasure Of The Bear", with Joseph Campanella. You might also remember his uncle Vic Tayback, who starred for 9 seasons as Mel Sharples on the CBS hit "Alice".
This Graffiti Gold Show is a Vegas-style live performance with stories from juke box days and tributes to rock and roll legends… The mid-50's to mid-60's was a great time to live, a great time to remember. Tom Tayback and the Daddy O's will be your tour guides on this trip down memory lane. Let's Rock n Roll, Baby.