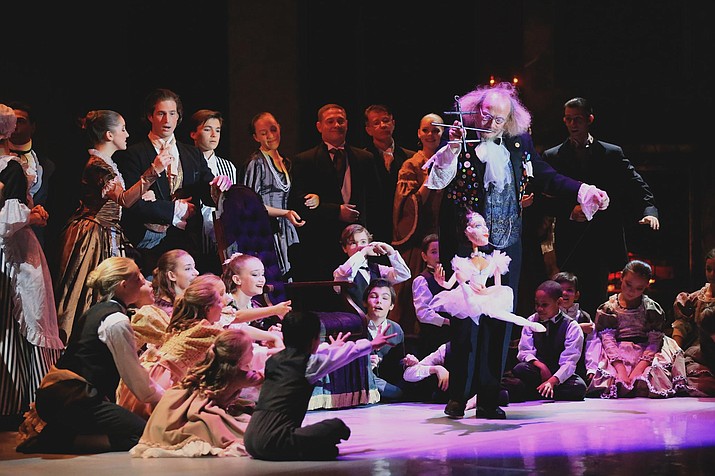 ---
---
The Phoenix Ballet and the Sedona Chamber Ballet will be conducting auditions for the 2018 production of the Nutcracker Ballet on Sunday afternoon, August 12, 2018. Dancers are invited to audition for the holiday classic ballet that will be performed December 1st and 2nd at the Sedona Performing Arts Center. The auditions will be held at the Sedona Performing Arts Center Classroom located at SPAC. Audition times, details, pre-registration and directions to this location are available on the website, www.sedonachamberballet.org. 
The ballet seek approximately 30 dancers from ages 6 to the pre-professional and professional levels. There are roles for all levels of training and ability, including numerous roles for boys such as party guests and rats. Additionally, we seek gymnasts. We are also seeking pointe dancers to audition for a demi-solo opportunity and other corp pointe roles based on ability. Adult dancers and dancers accepted in demi-solo roles will have additional rehearsals in Phoenix in October and November. Other than the adult and demi-solo roles all other dancers will rehearse in Sedona on Sunday afternoons as well as Phoenix with the professionals in late November. There will be several rehearsals for the children during the week of September 22nd-30th after school and on weekends to set the choreography as the Ballet Mistress will be in Sedona that week.
This collaborative venture will again create a Nutcracker production with professional sets, costumes and, most importantly, internationally acclaimed, award winning dancers from the Phoenix Ballet in principal roles. For information and to register on line for the audition visit our web site www.sedonachamberballet.org or call 928 554 4059 or email sedonachamberballet@gmail.com.