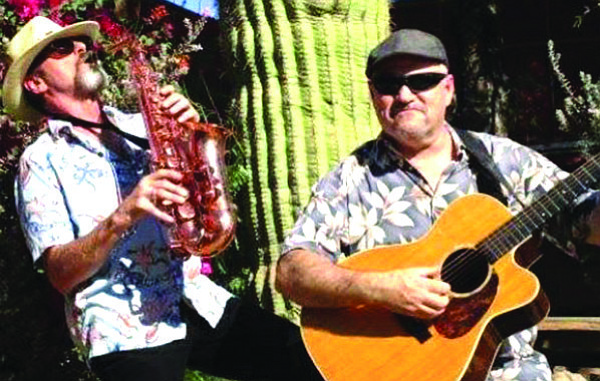 ---
---
The Grasshopper Grill, at the corner of Page Springs and Cornville Roads, this week features live entertainment Tuesday and Thursday through Saturday. Starting at 5:30 p.m., the region's most popular and talented singers, songwriters, instrumentalists and bands cycle through this locals' favorite Cornville restaurant and bar.
The entertainment week kicks off Tuesdays with the relaxed style of Rick Busbea. Rick offers up a great mix with a focus on covering favorites like Kenny Chesney and Jimmy Buffet. Here Cheeseburger in Paradise" takes on a whole new meaning. Not to be limited, however. Rick fears no genre and can be counted on to fill a wide range of requests from the furthest reaches of popular music.
Thursday, July 26th its acoustic rock musician Tommy 'Rocks" Anderson. Tommy combines a mix of classic rock, pop, reggae, R&B and original songs along with the best of the Beatles to create truly memorable shows. Often incorporating a loop pedal into his solo acoustic shows, Tommy gets rave reviews from his audiences and is surely a performer worth seeing time and time again.
Friday, July 27th Thunder & Lightnin' strikes at The Grasshopper Grill. Just off a concert appearance at the Town Park in Clarkdale, this show is the first featuring Arizona fiddle icon Tony Cook as a full-time member. Known for their fun-loving and grassy Roots-Americana bent, the band also reaches deep into less traditional genres for these instruments. Cook adds mandolin to the mix as well, joining Rob Gibbs' banjo-guitar and harmonica work, Tom Wehr's rootsy bass lines, and Steve Estes on 6 and12-string guitars. Expect a tight precise musical presentation, clean harmonies, and a lot of fun chatter with the audience. Loyal fans attest this band lives by its one-word mission statement: Fun.
Saturday, July 28th, come see the VanReed Brothers. This duo, comprised of Michael Reed on saxophone and Van Johnson (guitar and keyboards), offers up a fresh look on old favorites. With decades of pro performing between them, these two blend and bend the classic rock genre in a particularly entertaining way. Reed on saxophone is well known in the Verde Valley to pull off tasty, imaginative solos and interludes. Johnson holds down the vocals and guitar work. Together, an energy emerges that fills the room with great rhythm, familiar melody lines and solid delivery that well suits the intimate confines of The Grasshopper Grill's lounge venue.
The Grasshopper Grill is open from 11 a.m. to 9 p.m. daily, located at 1160 S. Page Springs Road, Cornville. (92 649-9211)