Camp Verde council candidates talk good, bad, ugly
By
Bill Helm
|
BillHelm42
Originally Published: July 26, 2018 3:33 p.m.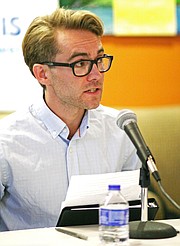 For Mayor Charlie German, it was about partnerships throughout the Verde Valley.
For Alex Goetting, a write-in candidate for mayor, it's the connection between education and economic development.
Tuesday, five of Camp Verde's Town Council candidates attended a forum to tell the public not only who they are, but what they believe in.
Each of the candidates at the meeting, sponsored by the Greater Verde Valley's branch of the League of Women Voters, answered questions submitted by close to three dozen attendees.
Following an opening statement, German, Goetting, and council candidates Robin Whatley, Bruce George and Bill LeBeau talked about the things they like most about Camp Verde, and – in an opportunity for frankness – what they would like to change.
"Are we getting enough out of our education?" Goetting, owner of the Verde Brewing Company, asked.
Whatley, looking to keep her current status as council member for Camp Verde, said she is not pleased with the Town Code that requires both its manager and chief of police to live in the 86322 zip code.
As Camp Verde currently searches for its next town marshal, George immediately agreed with Whatley.
"This policy limits the pool of qualified candidates who can apply," George said. "In today's modern age where we can communicate instantly via cellphone or laptop, a marshal can be reached and give instructions on any situation immediately. It doesn't matter where he or she lives, as long as they can do their job efficiently."
Finance
Leading up to the eventual 6-to-1 passing of the Town's fiscal year 2018-2019 budget, citizens raised concerns over money, both in the Town's spending, and in the sales tax.
As Town Finance Director Mike Showers presented the proposed budget to council, he explained the difference between a debt ratio and a debt service ratio.
The difference, in dollars and cents, is that few debts come due in one payment, Showers explained in June.
Council candidates discussed both taxes and debts on Tuesday.
"I'm from New York. I know what high taxes look like," said Bill LeBeau, challenger for a seat on the Camp Verde Town Council.
The more taxes a community receives, the more spending that's taking place in that town. That's what Whatley said to her fellow candidates.
"I like to buy things in Camp Verde. I pay my tax. I believe in our city sales tax," she said. "We exist on sales tax. But we don't tax our food. Guess who does? Cottonwood. When we shop out there, we're helping build Cottonwood."
But LeBeau and Goetting both raised concern over the $7-plus million the town has committed to pay for Phase I of the sports complex, as well as the eventual debt service to complete the project.
"That money's got to come from some place," LeBeau said.
Down the road
One of the many questions read by moderator Andrea Christelle was the candidates' 10- to 15-year plans for Camp Verde's economic growth.
Answering the question first, LeBeau said that a vibrant economy is a "mix of things."
"I love the rural character," he said. "But we need some places to shop."
A "focus on education" was how Goetting saw the community's economic future, as he pointed out that without "strong education," businesses "won't want to move here."
"We need to be more connected with the school board," Goetting said. "The library should be open seven days a week."
Retaining – and continuing – its uniqueness is how Mayor German said he saw Camp Verde moving forward.
"We don't want to duplicate what's already here," said German, who has served as an educator, school board member and volunteer firefighter. German has been Camp Verde's mayor since 2013. "Camp Verde is 42 square miles of incorporated community. It takes a lot of resources to deal with that."
Though candidates Jackie Baker, Carol German and Joe Butner did not attend, a prepared statement was read by moderator Andrea Christelle on their behalf.
At 6 p.m. Tuesday, July 31, the Camp Verde Republicans will hold a forum for Camp Verde Town Council candidates at Parkside Community Church, located across from the Camp Verde Unified School District offices at 401 Camp Lincoln Road.
-- Follow Bill Helm on Twitter @BillHelm42
More like this story
SUBMIT FEEDBACK
Click Below to: