Youth scholarships, Class XII graduation highlight year for Verde Valley Leadership
Originally Published: July 26, 2018 2:38 p.m.
Verde Valley Leadership celebrated its 12th graduating class Friday evening, July 20, at the Verde Valley Senior center, marking the completion of a year-long cohort experience. The organization also presented three local high-school seniors with scholarships.
Verde Valley Leadership provides fundraising opportunities for the "Patty May Open Your Heart to Youth Scholarship" each February. With support from the community and the generosity of Aces N Eights and ZenProv, VVL was able to award a combined $2,000 to Sarah Hemmings Lynch, Pei-Wen Yang, and Gunner Hayden Tillemans who were selected from more than thirty applicants based on their community involvement, leadership abilities, and academic excellence.
Recognition and honor was given to Al and Jodie Filardo for their 12-year commitment and investment in the program as founders, mentors, and instructors. Verde Valley Leadership is indebted to their legacy of service and vision as the organization enters a new chapter. Scholarship funds available to future VVL class members toward class tuition has been named the "Al and Jodie Filardo Scholarship Fund" to provide a continuing legacy in their honor.
Class XII graduates are Hezekiah Allen, Aisha Ayazi, Brandi Bateman, John Carter, Felicia Filep, Mike Gray, Jamie Hausaman, Brandon Iurato, Ron Rux, and Madisen Westcott.

The 2017/2018 Board of Directors was Tammy Yoakum, President; Marlayne Hatler, President-elect; Ellen Yates, Past-president; Kyla Allen, Secretary; Kirsten Lennon, Treasurer; and directors: Debbie Breitkreutz, Krishan Ginige, Jennifer Hernandez, Berrin Nejad, Sheila Sandusky, Stephanie Vocca, and Dane Wombacher.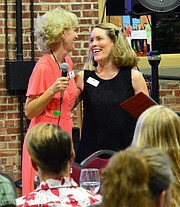 The 2018/2019 Board of Directors with oversight of incoming Class XIII is Marlayne Hatler, President; Tricia Winters, President-elect; Tammy Yoakum, Past-president; Stephanie Vocca, Secretary; Kirsten Lennon, Treasurer; directors: Aisha Ayazi, Brandi Bateman, Debbie Breitkreutz, Krishan Ginige, Brandon Iurato, Berrin Nejad, Sheila Sandusky, and Dane Wombacher.
VVL's follows its Vision of "Inspiring Individuals to Action" by creating environments supporting individuals for the betterment of the communities of the Verde Valley with the understanding that leadership is a practice.
VVl is a non-profit corporation providing personal and professional growth opportunities through development of leadership skills, community awareness and diverse, influential networks.
VVL seeks individuals who demonstrate the skills and interest to work toward the best possible environment for families, businesses, nonprofit organizations, government and other systems that nurture strength within communities. VVL remains adaptive in providing the most effective organizational support possible in these pursuits.
Applications for Class XIV will be accepted in early spring, 2019.

For more information, please contact President-elect Tricia Winters at info@vvleadership.org, or visit the organization's website at www.vvleadership.org.
SUBMIT FEEDBACK
Click Below to:
More like this story