Lightning believed to be cause of commercial building fire in Cottonwood (with video)
Originally Published: July 27, 2018 8:53 a.m.
COTTONWOOD – A lightning strike is believed to be the cause of a commercial building fire in the 200 block of Jennifer Drive Thursday afternoon.
Cottonwood Fire & Medical Department received the call at about 4:30 p.m. Thursday.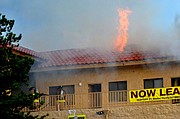 According to a news release from Cottonwood Fire Chief Mike Kuykendall, "Upon arrival, firefighters found a two-story, large commercial building with active fire coming from the roof of the structure. Firefighters from Cottonwood Fire & Medical Department, Verde Valley Fire District, Jerome Fire Department and Copper Canyon Fire & Medical Authority worked for over four hours to control the blaze."
Chief Kuykendall said the fire completely destroyed the second story and roof of the structure, which was a multi-suite two-story commercial complex that was mostly vacant. There was also extensive water damage to the first floor of the building due to the vast amount of water needed to control the blaze, he said. Additional on scene assistance was provided by Verde Valley Ambulance Company and the Cottonwood Police Department as well as a response by Arizona Public Service, Unisource and the City of Cottonwood Water Utility. Sedona Fire District also provided assistance by responding to additional emergency calls in the Cottonwood area while local response units were busy with the fire, said Kuykendall.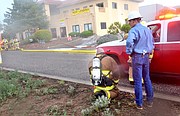 Kuykendall said initial investigation and interviews with multiple witnesses indicate that a lightning strike on the building is the probable cause of the fire.
A dollar loss figure has not yet been determined.
Information provided by Cottonwood Fire & Medical Department
SUBMIT FEEDBACK
Click Below to:
More like this story