Cottonwood City Council forum reveals common ground among candidates

Originally Published: July 28, 2018 2:51 p.m.
COTTONWOOD -- There were more agreements than disagreements Wednesday night during the Cottonwood City Council candidate forum hosted and moderated by the Verde Valley League of Women's Voters.
With the July 30 deadline to register to vote in the Arizona primary fast approaching, members of the community gathered at the Cottonwood Recreation Center to listen to candidates. State Board Representative Barbara Litrell moderated the forum.
Incumbent Kyla Allen and candidates Michael Mathews, Bill Tinnin, Doug Hulse and Jackie Nairn are all vying for three open seats at the Cottonwood City daises.
Allen noted that lighting was going to strike as she and Mathews actually agreed on many issues facing the city.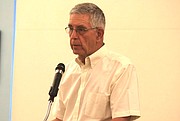 In his campaign, Mathews has been fervent on social media and on The Verde Independent candidate Q&As about his disapproval of city council decisions. Allen was a target in some of his criticisms.
Sales tax on groceries
Cottonwood City Council recently approved a half-percent sales tax increase. One major critique that was even noted by Mayor Tim Elinski who voted in favor of the increase, is that a sales tax on food is regressive and hurts low-income citizens.
Mathews said he has never advocated for removing the sales tax on food.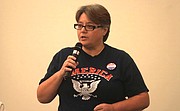 "I had made some suggestions," he said. "I was in favor of possibly a quarter-percent increase. Perhaps the half-percent increase that put on out there should not be added to food."
Nairn also agreed on the suggestion to increase the tax on everything but food.
Tinnin said this was the first he'd heard of a sales tax on food being questionable.
"With American Legion, we are food tax-exempt and the tax on food itself negligible."
Hulse agreed, noting that the tax on food was actually a "progressive tax" rather than a regressive one.
"If you were to buy $100 worth of groceries a week for 52 weeks, you'd spend an extra $33 on groceries over the course of a year," he said. "That $33 coming into the city over the course of a year adds up to a little over $2 million in the city's budget which is a big boom to us. Doing away with that food tax could result in the city going to a property tax."

Rec Center, Library rumors
One question asked about rumors circulating of threats to close the Cottonwood Public Library and Recreation Center.
Allen said from her perspective, "not going to happen."
"The citizens voted for the recreation center some time ago and whether they're inside the city or outside the city, that rec center is used just so much," she said.
Hulse, who was one of the catalysts in establishing the rec center said he won't allow it to be closed under any circumstances.
"As far as the library is concerned, it is probably on an equal basis with the rec center as far as what it provides for the community and I would never allow the library to be closed."
Mathews addressed rumors that claimed he wanted to shut the facilities down for personal financial gain.
"None of that is true," he said. "It's ridiculous, nobody's going to shut down the rec center, nobody has suggested it, nobody is talking about it. These are lies put out there to try and stop people from voting for certain candidates."
Tinnin said he would like to see the reasoning behind closing the rec center.
"Personally, I don't see that it makes any sense at all."
Nairn, who is on the Library Advisory Board said she feels passionate about the library.
"What I would like to do is expand the library services and hours," she said. "I feel the same way about the rec center."
Chamber and city partnership
Candidates applauded the Cottonwood Chamber of Commerce stepping up to partner with the Old Town Association, an organization recently victimized by an embezzlement scandal.
"I think we need to encourage all those partnerships," said Nairn. "I would want to learn more about what the Chamber is doing as a new council member so that we could develop those relationships more strongly."
Allen said that had the chamber not stepped up, they may not have been able to award funds to OTA.
Engaging minority populace
One question asked about the lack of ethnic diversity among candidates.
"Look around, I see no brown faces here, what would you do to engage minority as active and part of the community?"
All candidates agreed that there could and should be more diversity in civic engagement.
But the minority is populace growing, Allen said.

"I think you need to look harder at me," Allen said. "And Christian Oliva Del Rio, our once mayor Ruben Jauregui. We all have participation, do we need to have more? Absolutely."
She added that as Cottonwood continues to grow, the minority populace has gotten a louder voice.
"We are here," she said. "We aren't here in abundance but we are here."
SUBMIT FEEDBACK
Click Below to:
More like this story