Witnesses claim pattern of abuse, molestation in trial of former Prescott minister
Chantry trial continues Tuesday in Yavapai County Superior Court

Originally Published: July 28, 2018 3 p.m.
CAMP VERDE -- The prosecutor in the case of a former Prescott pastor accused of multiple counts of child molestation sketched a timeline of events dating back more than two decades ago during opening arguments Thursday.
Witnesses involved in the accusations were also called to the stand Thursday and again Friday.
"These incidents have many starts and stops," said prosecuting attorney Susan Eazer. "There are many beginnings but not yet an ending."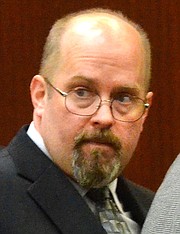 Former Prescott pastor Thomas Jonathan Chantry, 47, faces felony charges involving five counts of child molestation and three aggravated assault charges. He is accused of committing these offenses more than 20 years ago while he worked as a pastor at Miller Valley Baptist Church in Prescott.
Eazer outlined occurrences where she said Chantry disciplined the children of the families in his congregation. The discipline eventually turned into abuse and molestation, she said.
Chantry was hired as the interim pastor for of the church in 1995. Eazer said families welcomed Chantry with open arms and many invited him over for meals and movie nights.
"It didn't take long for some of the disturbing behavior to begin," she said.
'Serious cases like this need powerful evidence'
Chantry's attorney, John Sears, said Chantry has been waiting for the trial to begin so he can tell everyone the truth.
"He will tell you none of this is true," Sears said.
Sears argued that the stories told by the alleged victims are exaggerated.
"Some places in the stories just don't make any sense," he said. "Serious cases like this need powerful evidence."
He added that while he didn't believe the accusers in the case were necessarily lying, he believes false memories have come into play.  
"We think that many, if not all the victims have honest false memories," he said.
Sears urged jurors to see the gray in a world of black and white.
"We just can't be sure about these things," he said. "One person has said the same thing this whole time and that is Tom (Chantry)."
Witnesses
The first witness called to the stand was a 21-year-old man who recounted a string of accusations against Chantry that first surfaced in 2015.
The man described being touched on the genitals by Chantry for about 10 minutes when he was around 4 years old.
"[Chantry] told me not to tell my parents," he said.
The man said the incident made him feel uncomfortable even though he didn't realize what was going on.
"When I was going through puberty, that's when I realized it was wrong," he said.
He said that although his memory from when he was 4 isn't very clear, he knew it was Chantry when his mother showed a picture of the pastor to him years later.
"I did not know him but I knew it was the pastor," he said.
During a cross-examination, Sears grilled the man on the exact timeline of events. The man had difficulty answering all the questions and said that his memory wasn't clear enough to recollect all the details.
The parents of two of the alleged victims were also called to the witness stand Thursday.
The father described an incident where his son was hit by Chantry during an Independence Day celebration at the church in 1995.
The father said he didn't see the incident himself and when he confronted Chantry about it, Chantry denied it took place. He said that if he had seen it with his own eyes, he "would have ran over and done the same thing to him."
He and his wife both decided to forgive Chantry and welcome him into their home.
"I accepted it could have been an accident and forgave Tom," he said. "Knowing what I do now, I regret not calling the police."
The father said Chantry would eventually offer to tutor his other son and he and his wife accepted. When they learned that Chantry used corporal punishment on their son, he said they once again decided to forgive him.
"I didn't tell the pastor to not spank," he said. "I thought [my son] was compliant and that it would never happen again."
The father said he later learned that the discipline had become worse and that Chantry would even spank his son's bare bottom. He didn't find out until reading a letter his son wrote describing the events that the discipline was also molestation.
"I only feel bad I let these things happen to my son," he said.
Brothers testify
Friday morning, Eazer called two of the brothers involved in accusations against Chantry to the stand. The prosecutor first called the older brother, a 35-year-old man who said Chantry hit him during an Independence Day celebration at the church in 1995.
"All of us kids had a water fight," he said. "[Chantry] said 'don't anyone squirt' I squirted him and he balled his fist and hit me."
He described the hit as being "hard enough to knock me on the ground."
The man, who remembers being 11 or 12 when the incident took place said his parents brushed off the incident and forgave Chantry. He said his parents later allowed Chantry to tutor his younger brother.
He said that Chantry would pick him and his brother up from school and would tutor his brother in his office while he waited outside. He said he recalled hearing what sounded like spanking and whimpering from the office.

He revealed during a cross-examination that he recalled one incident where he looked into the window of Chantry's office and witnessed Chantry spanking his brother.

The younger brother, who is now 33 years old, also testified Friday. He said the first tutoring lesson started out normal but by the second lesson something changed.
"It was the first time he spanked me," he said. "He told me I was slouching and told me to sit up straight. Another time I pointed out he was slouching and said I was being disrespectful so he made me stand up and bend over a chair and I was spanked."
The man said that over time, the spanks started to get harder. He said after the spankings, he would try to rub his rear to sooth himself. He said Chantry forbade him from comforting himself.
"I wasn't allowed to do it because he gave me the pain," he said. "He said it was OK for him to do it since he delivered the punishment."
The man said Chantry would rub his bottom for several minutes and eventually start rubbing his genitals.
"He compared himself to the way God controls things," he said. "He said disobeying him was disobeying God."
The man said the incidents involving Chantry have impacted his faith.
"I never wanted to talk about it," he said. "I still don't want to talk about it. I don't want him to hurt anyone else."
Testimony in the trial will continue Tuesday, 9 a.m., in Division 7 of the Yavapai County Superior Court in Camp Verde.
More like this story
SUBMIT FEEDBACK
Click Below to: