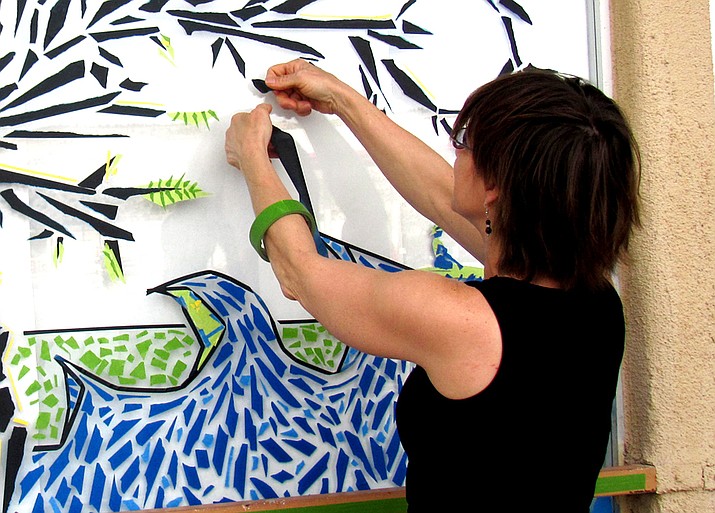 ---
---
Visual artist Beth Courtright-Detwiler of "Word is Art" studio will host an Art Pop-Up at the Jerome Art Center Aug. 4.
This event will be held at the Jerome Art Center at the Old Jerome High School, in Bldg. A first floor Library room.
​The Community Flower Garden is a free public arts event that is open to visitors of all ages.
It will Pop-Up for one day only, on Aug. 4, during the hours of 10 a.m. to 2 p.m. and then will be active during the evening's  Jerome Art Walk - Open Studio Tour from  5-8 p.m. 
This creative and collaborative art experience is designed to engage visitors in multiple stations of "hands-on" art making activities. The emphasis will be on the processes of art making and how art is enriched through the group dynamic.
Types of Art exploration, activites, and mediums offered to participants include: drawing and sketching, pin-back button making, and the opportunity for visitors to make their mark on the community mural by creating themselves as "flowers" in a large-paneled, colorful, interactive art mural conceptualized as a "Community Flower Garden."
The project's slogan "Be a Flower" is the symbolic and creative prompt behind this Pop-Up.
The mural will be executed in the artist's signature "masking-tape art" medium which uses brightly saturated primary and secondary colors, in addition to strong addition of black on a white picture plane.
The day's events are "open-ended" art activities that can be accessed at any time throughout the day.
Water and light refreshment will be provided.
The Jerome Art Center is housed in the historic Old Jerome High School. Call 928-254-9932  visit www.wordisart.com  for further details.