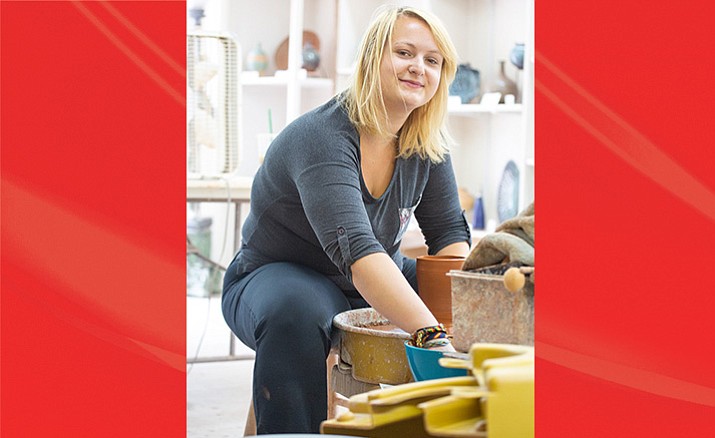 ---
---
Sedona Arts Center welcomes new ceramics instructor Holly Roccaforte, who has taken the helm of the department's Pottery Wheel for Beginners six-week courses. 
Holly Roccaforte is a ceramic artist originally from Phoenix, Arizona that has been working in clay for over eight years. Currently enrolled at Northern Arizona University, she is a senior studying studio arts with an emphasis in ceramics.
Her work explores the relationship between nature and form through carved imagery on wheel thrown pots. Often including floral patterns and geometry, she works to emphasize the geometric archetypes of our environment through composing pieces that contrast free flowing elements of nature to sacred geometric designs.
These pieces often take their shape in functional pottery and installations often finished in high fire glazes that accentuate the finer details. 
Pottery Wheel for Beginners is a six-week course, designed exclusively for those who are new to wheel work and is open for ages 12 through adult.
The course is intended to be fun and help students gain confidence on the potter's wheel.
Students will receive personalized, one-on-one instruction and encouragement for a fascinating hands-on experience.
The six-week course runs now through August 4, then beginning again Aug. 11 through Sept. 15.
The Sedona Arts Center's Ceramic Department operates free from the constraints of grades and benefits from the talents of its ceramic faculty and assistants as well as nationally recognized guest instructors.
This combination allows the department to offer flexible and diverse programming in both traditional and contemporary techniques.
Sedona residents and newcomers alike look to Sedona Arts Center for their introduction to and ongoing involvement in the arts.
The School of the Arts programming is designed to reach out to all aspiring artists and students, including all ages and levels of learning.
Taking classes on campus in Uptown affords the opportunity not only to explore the arts, but also to meet new neighbors and immerse yourself in the Sedona arts community. These classes have a membership discount and are offered on an ongoing or year-round basis.
The Sedona Arts Center is one of Northern Arizona's most well established cultural organizations and serves as the creative heart of Sedona. Founded in 1958, the nonprofit is based at 15 Art Barn Road in Uptown and offers year-round classes, exhibitions, festivals and cultural events that enhance the creative life of the Verde Valley. 
The center's Fine Art Gallery, open daily from 10 a.m. to 5 p.m., promotes the original works of over 100 local artists and regularly offers assistance for collectors and art buyers, private studio visits and fosters hundreds of arts education opportunities each year.
For more information, call 282-3809 or visit SedonaArtsCenter.org.