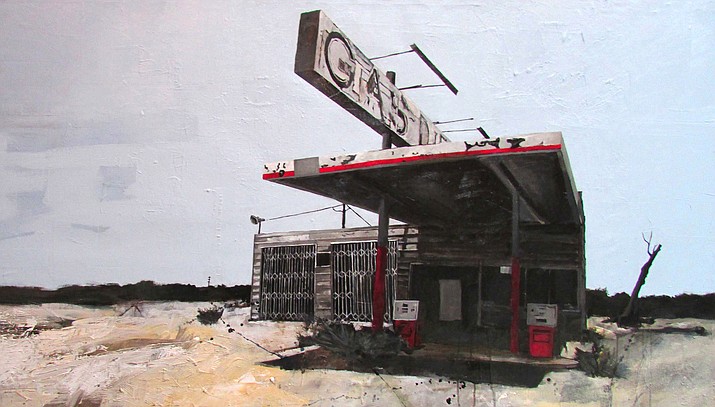 ---
---
Humidity levels are up, and monsoon rains are bringing welcome cool air as summer carries on which makes gallery hopping an increasingly attractive option in Sedona.
At Lanning, a Bryant Nagel Gallery that has anchored the heart of Sedona's Gallery District for 32 years, a gallery-wide, summer-long celebration continues with its 1st Friday reception August 3rd, from 5-8 p.m.
Visitors are invited to join the gallery for wine and appetizers as they enjoy works that reflect cool waters such as the Surrealist scenes by oil painter Evgeni Gordiets or the abstracted landscapes of Patty Ripley.
With names such as "Water's Way," Collective Sigh," "Soft Surrender," and "Spawning Ground," Ripley's paintings of acrylic mixed media offer a touchstone of landscape or waterscape with enough abstraction to allow viewers to freely personalize their interpretation.
If giving in to the slow march of time in our desert landscapes is more to your taste, the barren and abandoned desert scenes by Jonathan Howard remind us that days gone by sit directly next to each of our todays.
Offered in a Contemporary style, the textured mixed media paintings by Jonathan Howard use a minimal palette to capture each scene's sun-bleached palette.
A gallery filled with Contemporary works by regional, national and international artists await visitors. Paintings, sculptures, studio glass, the exemplary jewelry of Michael Grant and so much more make a visit to Lanning, especially on a fun 1st Friday evening, a truly special experience.
"Summer Celebration 2" at Lanning, a Bryant Nagel Gallery, runs throughout August.
For additional information and photos, see Facebook.com/LanningGallerySedona or follow Instagram.com/LanningGallery. 928-282-6865, mail@lanninggallery.com, www.lanninggallery.com.
Located at Hozho, 431 S.R. 179, Sedona. Open daily: 10 a.m. to 6 p.m.