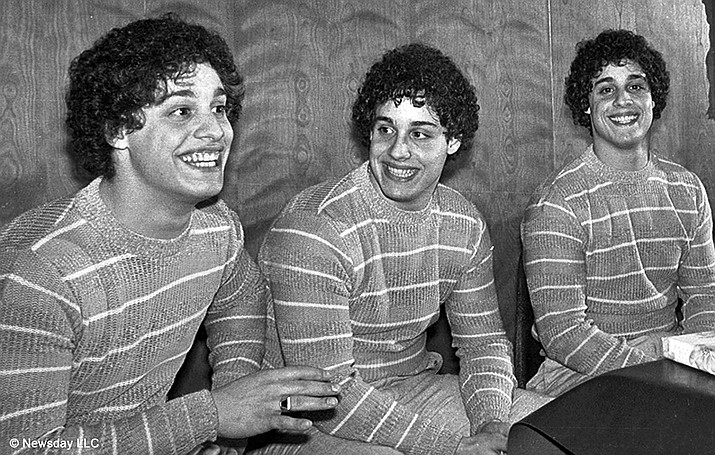 ---
---
Three Identical Strangers is a documentary film centered around the story of three triplets separated at birth and put up for adoption in New York in the early 1960's.
The film starts with the discovery by the three boys, at age 19, that they are indeed triplets. They knew they were adopted but neither they nor their parents knew that there were three of them.
Their story — Eddy, Robert and David, separated at birth and finding each other at age 19 — became a national sensation. The trio appeared on several television programs and in newspapers nationwide. This is the fun part of the film.
The three brothers spent all their time together and they became very close and affectionate. They married and started to raise families. They were indeed almost indistinguishable in appearance in those years. But they did have questions about their adoptions and why they were separated.
When they approached the adoption agency for details about their history, the agency is guarded in response. A broad program practiced by the agency begins to be exposed. Eddy was placed with a well-to-do professional couple. Robert with a middle-class family and David with a blue-collar family.
In the early years, the agency was sending an interviewer and photographer to each of the houses on a regular basis to document the progress in rearing the adoptees.
The brothers are suspicious of the motives for all this and they undertake the task of learning more.
This is where the fun of the film stops. The agency had placed many newborn twins in similar arrangements as our triplets. They did not tell the adoptive parents of the twins, and the siblings are placed in different social and economic levels. The point is to determine the effect that environment has on the children's growth, when they bear deep similarities at birth; i.e. nature vs nurture. The program is managed by Dr. Peter Neubauer, a child psychiatrist.
The brothers are outraged and try to uncover the results the agency has to report. They encounter roadblocks as the research group will not reveal the as yet unpublished report. Ultimately, the research papers — many thousands of pages and dozens of cases of documents — are sealed and secured until 2066!
Three Identical Strangers tells a true story that is compelling, as the joy of reuniting collides with the reality, and tragedy, of the circumstances. The brothers, spouses and relations are interviewed in the film.
Photos and home movies of the families are interspersed throughout. Some of those graphics get repeated several times and that detracts from the tension of the film. But overall, it is an interesting story that is disturbing when we consider the damage that may have been done to so many children.
Three Identical Strangers is at Harkins Sedona 6 Theater.