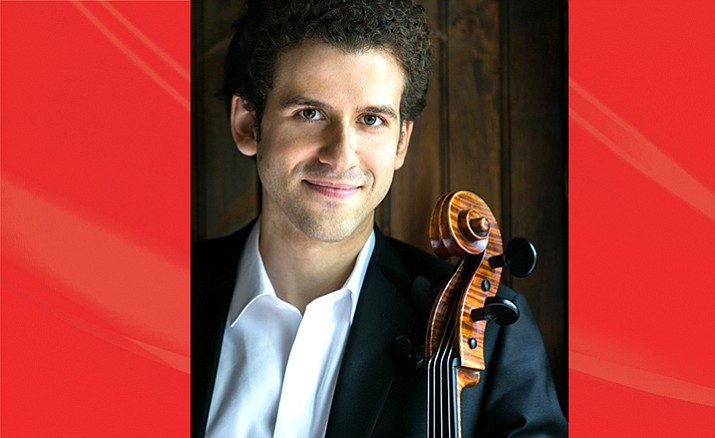 ---
---
Chamber Music Sedona announced that Nicholas Canellakis will serve as the organization's new artistic director. Hailed as one of the world's most innovative and sought-after young cellists, Mr. Canellakis has performed at leading venues around the world, including Lincoln Center, Carnegie Hall, and Chamber Music Sedona. In assuming the role as artistic director, Canellakis looks forward to continuing to establish Chamber Music Sedona as one of the leading presenters of chamber music in the country.
"I am thrilled and honored to be joining Chamber Music Sedona as artistic director," said Canellakis. "Ever since first performing in Sedona in 2010, I have enjoyed getting to know the organization and the community well. Sedona is a special place, full of passionate and devoted classical music lovers -- the gorgeous Red Rocks don't hurt either -- and I can't wait to bring to it the most exciting, talented, and brilliant musicians in the world."
In addition to starring in Chamber Music Sedona performances, Canellakis has also served as co-artistic director for the organization's Sedona Winter Music Festival since 2014. As an acclaimed musician, he frequently performs as either a soloist with orchestras, in recital with his duo partner Michael Brown, and as a chamber musician at prominent venues and music festivals in the United States and abroad. In 2015, he made his Carnegie Hall concerto debut alongside the American Symphony Orchestra, and is currently an artist of the Chamber Music Society of Lincoln Center. A multidimensional artist, Canellakis has directed, produced and starred in numerous short films and music videos, including his popular comedy web series, "Conversations with Nick Canellakis." His videos may be found at his website, www.nicholascanellakis.com.
As he begins spearheading Chamber Music Sedona's artistic vision, Canellakis is eager to expand on Mr. Harcerlode's accomplishments. "I am thankful and deeply grateful to Bert Harclerode, who leaves behind a remarkable 25-year legacy," said Canellakis. "I've greatly admired his leadership, he's been a close friend and colleague, and I look forward to continuing his outstanding work in making Chamber Music Sedona one of the greatest music series in the country."
Chamber Music Sedona was founded in 1982, hosting performances at the Verde Valley School. Having recently closed its vibrant 35th season, Chamber Music Sedona looks forward to continuing to bring some of the world's most illustrious musicians to local audiences. For more information, visit http://chambermusicsedona.org.